Paris Men's Fashion Week goes psychedelic and globe-trotting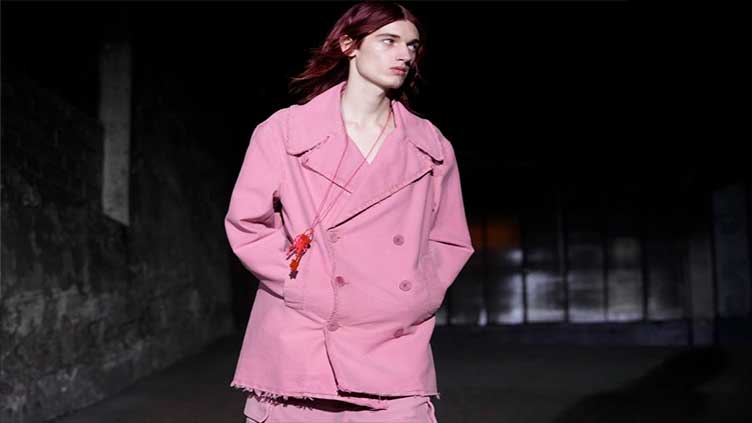 Entertainment
Paris Men's Fashion Week goes psychedelic and globe-trotting
PARIS (Web Desk) — Men's Fashion Week in Paris was in top form Wednesday with a second day of runway shows touting a dynamic season and presentations showcasing brands such as Dior, Vuitton, Issey Miyake and Givenchy, which have roared back from the pandemic.
Here are some highlights of fall 2023-winter 2024 shows:
BLUEMARBLE EXPLORES IDENTITIES
Bluemarble counts celebrities such as actor Timothee Chalamet and singer Justin Bieber among its aficionados. Some amused fashion editors in the front row asked if designer Anthony Alvarez was making a statement with his fall fare about how religiously followed the French brand has become.
His eye-popping display inside the American Cathedral was a typical melting pot of streetwear, tailoring and cross-cultural, country-hopping references.
Alvarez, who was born in New York and has Filipino, Spanish, French and Italian roots, uses his myriad identities as a style touchstone. The brand's name itself is global, borrowed from an iconic photo of Earth taken in 1972 by the Apollo 17 crew.
Faded blue jeans and bright yellow loafers paid homage to that decade on Wednesday. A huggable gray marled knit featured the brand name emblazoned across it and led the way for myriad shaggy, multicolor retro looks that came across as part-Woodstock, part mythical yeti.
But there were also clever moments, such as the mask motifs that appeared on slouchy sweaters and suggested questions about the nature of true identity.
BIANCA SAUNDERS' COOL RESTRAINT
A minty fresh vibe permeated Bianca Saunders' third show in Paris.
It came from a minimalist, often oversized aesthetic that was able to dart effortlessly between cultures and channeled her British and Jamaican background with subtlety.
Flashes of color, such as a bright neon blue T-shirt, met an otherwise pared-down collection that was cool precisely because of its restraint.
The first look, a take on a tailored suit, brought in clean, sanitized lines to project minimalism, or what the house says is Saunders "addressing the tension between tradition and modernity."
Other moments were fun and thoughtful, like a giant boulder-gray coat worn on a model with bangs that fell over his eyeline.
The Andam Prize-winning Saunders, one of only a handful of women designers in menswear, is a welcome installment on the Paris calendar.
SAINT LAURENT CHANNELS BLACK
The house that redefined women's fashion with menswear tuxedos in the 1960s lurched the opposite way this season.
Designer Anthony Vaccarello brought the long, dark elongated silhouettes of Saint Laurent's women's wardrobe to a gender-fluid and aesthetically precise fall display.
Yet the 46-piece-collection heavy on black was sometimes light on new ideas.
Floor sweeping "Matrix"-style leather coats, with Vaccarello's signature exaggerated statement shoulders, found their place alongside slicked-back hair and sunglasses, but also tuxedo coats and necks tied in exuberant bows harking to the the New Romantics era.
A glossy, black leather bow contrasting with a matte black wool coat was a typical style for the Belgian designer, but nonetheless one of the highlights of the show.
The front row was notable, and included French actress Beatrice Dalle wearing an oversized tuxedo coat and peering out from under black shades.
Jenna Ortega, the star of Netflix's hit show "Wednesday," was photographed arriving in a black hooded column gown.