Published On 13 September,2021 07:40 pm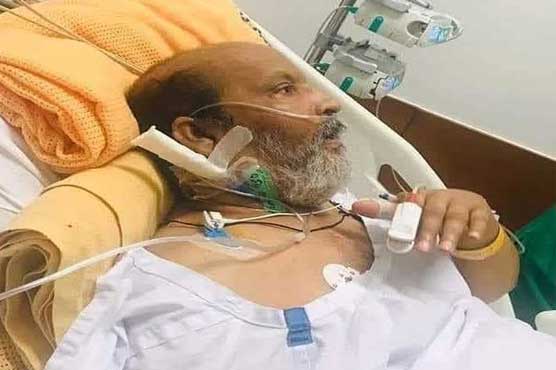 Umar Sharif still in critical condition, his son appeals for prayers
LAHORE (Dunya News) – Jawad Umar – son of renowned actor and comedian Umar Sharif who often regarded as one of the greatest comedians in the sub-continent – has appealed to the nation for prayers while informing the fans about his father's critical condition.
The legendary comedian's photo also went viral on social media. Umer Sharif is still in critical condition.
In a statement, Jawad Umar said that his father Umar Sharif's condition was still bad, stating that his father is undergoing treatment but his condition is not improving.
Jawad Umar further said that according to the doctors, his heart disease condition had deteriorated a lot. If he is not sent to the US for treatment, he will have to go for open-heart surgery.
He also said that his father did not recognize anyone even after regaining consciousness for a few minutes. He has appealed to the nation to pray for Umar Sharif's recovery.
It is to be noted that actor and comedian Umar Sharif has been unwell for some time now. According to his son Jawad Umar, Umar Sharif has been suffering from a heart condition and is undergoing treatment.
Earlier, Umer Sharif had appealed to the prime minister to help him in his treatment. Umer Sharif, in a video said that he has always helped Imran Khan with the fundraising of his cancer hospital. He appealed prime minister to help him in this crucial time and facilitate his traveling abroad, as per the Doctor's advice.
Actress Yumna Zaidi also posted video of legendary actor and said that "Legend of our industry. Our support and prayers are with you Omer Sharif sahib"
Singer Aima baig also uploaded the video of Omer Sharif.
Actor Agha Ali took it to Instagram and wrote that "Fact check: Omer Sharif seeks visa assistance not medical aid from government."