Last Updated On 17 June,2020 07:21 pm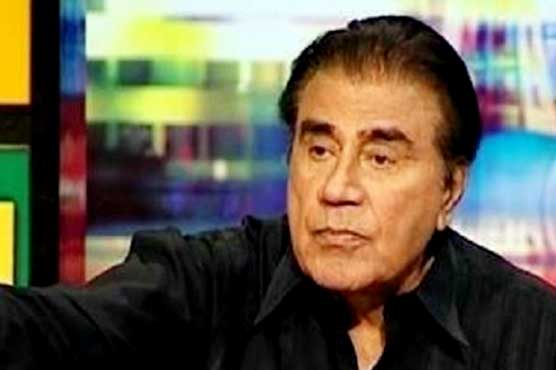 Showbiz industry mourns the death of TV legend Tariq Aziz
LAHORE (Web Desk) - Tariq Aziz, a juggernaut of Pakistani TV, passed away today leaving a void which would be impossible to fill for years to come. Pakistani actors and celebrities are mourning his passing by acknowledging his services to the industry and posting condolence messages to his family and fans through social media.
Expressing deep sorrow over the demise of the TV great, famous actress and showbiz star Mahira Khan said that Pakistan is indebted to Tariq Aziz for his services.
On social networking site Twitter, the actress shared her condolence message in which she also shared a video of Tariq Aziz launching PTV broadcasts.
— Mahira Khan (@TheMahiraKhan) June 17, 2020
Actress Mawra Hocane wrote in her message that Tariq Aziz played an important role in making her childhood memorable and prayed that Allah may grant him lasting peace.
At the end of her tweet, she also wrote Tariq Aziz's famous dialogue "Dekti aankhon or suntay kanon ko Tariq Aziz ka salam".
— MAWRA HOCANE (Hussain) (@MawraHocane) June 17, 2020
Ali Zafar also wrote a condolence tweet that our nation forgets its heroes very quickly but he is confident that the personality of Tariq Aziz will never be forgotten.
He said that an era has come to an end with his demise and he has left us not only gifts but so much else.
— Ali Zafar (@AliZafarsays) June 17, 2020
Well known host and actor Vasay Chaudhry also paid homage to Tariq Aziz in his tweet.
— vasay chaudhry (@vasaych) June 17, 2020
Actress Saba Qamar wrote on Twitter that her heart aches after hearing the news of Tariq Aziz's death.
— Saba Qamar (@s_qamarzaman) June 17, 2020
Actor Bilal Ashraf termed the death of Tariq Aziz as a great loss and wrote that Tariq Aziz will always be remembered.
— Bilal Ashraf (@IamBilalAshraf) June 17, 2020
Ali Rehman Khan wrote in his condolence message that Tariq Aziz, one of the most respected and interesting personalities of his life, is no longer with us.
He wrote that may Allah Almighty grant eternal peace to the superstar, who was kind hearted with a larger than life personality, he will always live in our hearts.
— Ali Rehman Khan (@alirehmankhan) June 17, 2020
"I couldn't have said it better myself," actress Mansha Pasha wrote on Twitter, replying to Ali Rehman Khan's message.
— manshapasha (@manshapasha) June 17, 2020