Ali Sethi and QB's duet: did it really pack a punch?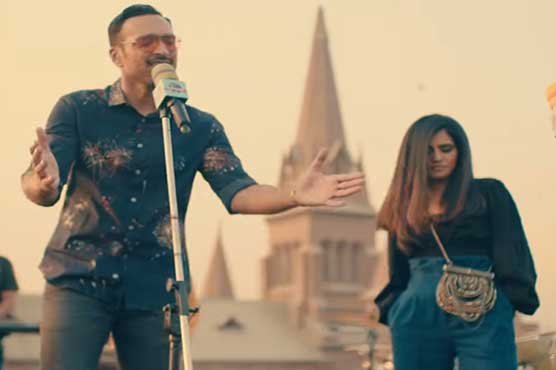 Ali Sethi and Quratulain Baloch performed in a music video that was released on Friday morning.
(WebDesk) - Two of Pakistan's most celebrated singers, Ali Sethi and Quratulain Baloch came forward with yet another duet to treat their fans with a completely new and refreshing take on classical pop songs "Dil Karda Ay" and "Agar Tum Mil Jao".
Both of the rendited songs are old Pakistani musicals that are now given a modern touch by the Pakistani music sensations, the classical Ali Sethi and the melody diva, Quratulain Baloch. The duo gave an overall refreshing and calming touch to the new rendition by mixing the songs together.
The music video, which was released on Friday, displays a light scheme of atttractive colors that go well with the rather toned down music that has the potential to keep its viewers hooked for a long time.
The video displays a stereotypical feature of young love that revolves around a youngster who struggles to convince his love interest, a pretty girl, who works with him as part of Sethi and QB s gig crew. The boy chases his love around the set and continues to fight for her before Sethi offers him some help.
Unlike QB's powerhouse performances, this music videos shows her voice a bit toned down for her liking that upsets a few fans saying that she hasn't been allowed to display her full potential.
Sethi s role in the video also caused an uproar with majority saying that he should only limit himself to singing since acting is not his forte .
---
---
The rendition received mixed responses after its early morning release on Friday. Fans did not hold back and shared their views concerning the new song.
A majority of the fans liked what they were hearing:
— Sana Khan (@SanaSk25) June 30, 2018

— Ambreen Sanchez (@Sabeen74) June 29, 2018

Qurattulain's performance in the duet really excited some fans:
— Ahsan Ahmed (@ahsanahm3d) June 29, 2018
Some, however, were not really keen with the new version:
— medula oblongata (@medullaob009) June 29, 2018
A few were ruthless, to say the least:
By: Raacikh Asghar