Last Updated On 16 July,2017 11:55 am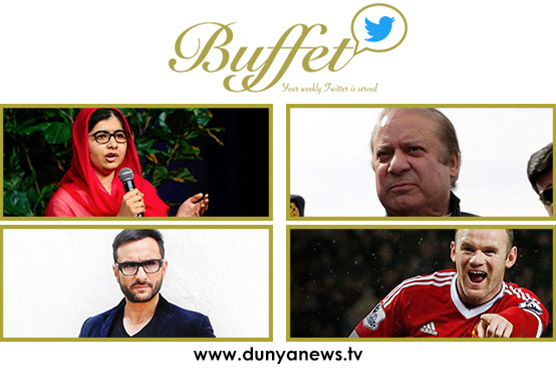 Twitter Buffet is a weekly story published on Saturdays at 09:00pm
(By Abdullah Ejaz) – From Panamagate Joint Investigation Team (JIT) report to Malala's 20th birthday in Iraq, Twitter Buffet has it all this week.
We are working towards bettering the content as well as the vlogs with every passing week. However, that does not mean this buffet is not to be devoured.
Let the buffet be served.
---
Calibri font and the house of Sharifs
While a font has a pivotal role to play in forgery, it also has a key role to play in corruption verdict of the top court in a case concerning the first family of Pakistan.
Know also: Twitter Buffet is served: Maryam Nawaz and the salute
Panamagate JIT filed its conclusive report in the apex court on July 10 and the experts hailed the probe as fair which recommended that the premier and his two sons are booked for corruption.
The Supreme Court (SC) is yet to deliver its verdict in the corruption case against the premier.
Microsoft s Calibri font could topple a world leader https://t.co/rFkG0XL9Lp pic.twitter.com/67sYM94mB6

— CBS News (@CBSNews) July 13, 2017

---
Karan Johar, Saif Ali Khan and Varun Dhawan have fun in New York City
KJo and Saifu have hosted International Indian Film Academy (IIFA) Awards 2017 in NYC and the stars flew down this week to famously participate in the IIFA weekend.
We came across a media interaction of the hosting duo along with Varun Dhawan ahead of the big night and it was quite fun to watch. Saif Ali Khan, we know loves interacting with journalists who are looking for a fun conversation and not necessarily 'headline material'.
KJo, Saif and Dhawan apparently had a great time in this fun interaction. Don't miss out on your celeb dose and have a go:
IIFA Awards 2017 | Varun Dhawan, Saif Ali Khan, Karan Johar | Press Conference FULL VIDEO: https://t.co/zRzMGv0TqT via @YouTube

— Bollywood Showcase (@bollyshowcase) June 20, 2017
---
Conor McGregor wears F-bomb suit to Mayweather trash talk
'The 180 million Dollar dance' is scheduled for August 26 (Saturday) in the mean ring of Las Vegas.
In a trash talk session held in Staples Centre in Los Angeles this week, McGregor, the biggest UFC has ever produced, wore a cussword-pinstriped (the F bomb) suit making a statement that you (Floyd Mayweather) have not lost a single bout in your entire career (49-0) and that is going to change coming month.
Read the first Twitter Buffet story: Your Twitter Buffet is served
The bout that has been branded the 'money fight' and the '180 million dollar dance' for two greats of the modern day sports styles, boxing and mixed martial arts are to fight each other in the first ever style-marriage.
Mayweather has come out of his retirement for this fight.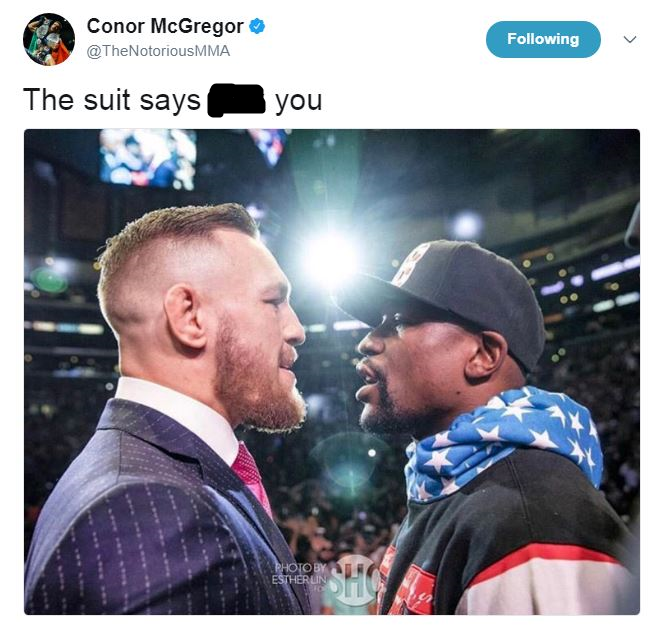 ---
Rohit Sharma! Why?
Cricketer Rohit Sharma, branded by his Indian fans 'blaster', blasted style out of his life with this fresh haircut that he took pride in on Twitter this week.
"Much needed haircut," he wrote on Twitter and our response to that is you must get your barber to finish what he had started.
Much needed haircut pic.twitter.com/nNTji93JtR

— Rohit Sharma (@ImRo45) July 10, 2017

---
This Mumbai firm is not women-centric but caring towards employees
Culture Machine, a Mumbai-based firm introduced 'first day of period leave' for its women employees in bid to fight the hush-hush that surrounds the topic in our societies. And yes, by our we do mean our. You no better than Indian societies Pak! If anything, you more conservative bruh!
Shout out to Culture Machine by Twitter Buffet. Good going.
(3) The new initiative by Culture Machine to recognise the first day of the period as a leave day is an interesting new trend.

— Ritu Kapur (@kapur_ritu) July 10, 2017

---
Al-Baghdadi killed... for real?
Islamic State chief was confirmed by the terror group this week to have been killed in the first ever confirmation by the group. However, sections are still unsure of what to say on the development as this is not the first time Baghdadi was reported killed.
Know also: Twitter Buffet is served: Meera and Jack Sparrow
Though the difference this week being that the banned organisation confirmed the development.
ISIS finally admits its leader Abu Bakr al Baghdadi is dead https://t.co/qkoowEEpY9

— Daily Mail Online (@MailOnline) July 11, 2017

---
Homecoming of the 'Red Devil'
The Red Devil has left the hood...
Rooney announced to join British Everton this week after a 12-year-long equation with Manchester United which we know cannot be overshadowed no matter where he is off to.
The striker who debuted from the side in 2004 has 559 matches to his red jersey and 253 goals to his name.
Rooney had quit Everton back in the day to join United. Could this be branded as a legend s homecoming?
Welcome home @WayneRooney. Exciting times. Up the Toffees! #Everton #EFC pic.twitter.com/T2JIdiV4mt

— Ronald Koeman (@RonaldKoeman) July 10, 2017

---
First woman winner of maths Fields Medal is no more
Iranian genius Maryam Mirzakhani died of cancer this week. She was the first woman to win Fields Medal which is regarded as the highest honour for mathmaticians there is in the world.
Fields Medal is awarded every four years to two, three or four geniuses at the congress of International Mathematical Union (IMU).
Mirzakhani rose above what Iranian women are perceived to be capable of given the society they are born and raised in, and bagged international recognition that is hailed as gold in the field she excelled in.
Iran s state television is reporting that Maryam Mirzakhani, first woman mathematician to win the Fields Medal, has died at 40 from cancer. pic.twitter.com/jtagDV5Q58

— Ammara Ahmad (@ammarawrites) July 15, 2017
---
Malala's birthday!
After the real-life superhero joined Twitter last week, she spent her birthday this week in Iraq with young girls who now are enrolled in schools following an end to IS regime that kept them from institutions.
The brightest of the Yousafzais spent her 20th birthday at a theme park in Iraq during her girl power visit.
We have none other than Mahira Khan to wish Malala on her birthday. She showed her faith in the Nobel laureate and stated: "Show us the way."
Malal responded to Mahira by telling her that she enjoyed Bin Roye , a Mahira-starrer film that was released in 2015.
Thank you @theMahiraKhan. My mother and I loved watching Bin Roye. You are just amazing!

— Malala (@Malala) July 14, 2017
---
Mahira pulls stunner at Beirut awards
Speaking of whom, somebody stunning dazzled Beirut International Awards Festival (BIAF) this week and bagged two awards the same night.
Moral police was quick to spoil the celebrations as a section of Twitterati took objection to her ravishing dress and styling. It was immoral for them.
Super proud of you @TheMahiraKhan and you look stunning. Congrats! #crushing #represent pic.twitter.com/1WVzPBxQGy

— Hassan Sheheryar (@HSYCOUTUREKING) July 10, 2017
---
Coupling the Twitter Buffet story with our second vlog, here are the Buffoons and what they have to say this week: