Last Updated On 14 July,2017 07:04 pm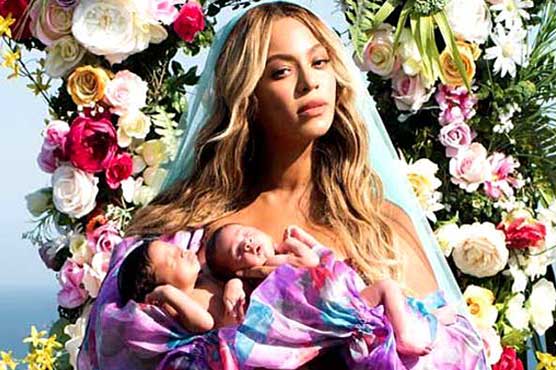 In her arms are the twins, each with a full head of hair and their eyes closed.
NEW YORK (AFP) - Pop diva Beyonce unveiled her newborn twins to the world on Friday, posting a glamorous photo on Instagram and announcing their names.
"Sir Carter and Rumi 1 month today," reads the caption on the photo, which focuses much more on the 35-year-old yummy mummy than the little ones.
Queen Bey is shown barefoot, standing on a lawn with the ocean in the background. Towering over her is a large display of colorful flowers.
She is wearing a turquoise bikini bottom and a dramatic ruffled lilac robe, open at the front and cascading to the ground, twinned with a floor-length pale turquoise veil.
In her arms are the twins, each with a full head of hair and their eyes closed.
The set-up is similar to the one she used to announce her pregnancy back in February, in which she was pictured kneeling in front of a similar floral display while wearing a flowing veil.
---
'Share our love and happiness'

---
"We would like to share our love and happiness," she wrote at the time. "We are incredibly grateful that our family will be growing by two, and we thank you for your well wishes."
The twins' first photo attracted plenty of love from Beyonce's passionate fans, with the post garnering 2.5 million "likes" within an hour.
Beyonce is one half of a music power couple. Her husband is 47-year-old rapper Jay-Z, whose real name is Shawn Carter, and the couple have a five-year-old daughter Blue Ivy.
Until Friday, Jay-Z and Beyonce had not even confirmed the twins' birth, though Beyonce's father acknowledged the delivery on social media.
It has been an extremely busy time in the celebrity household.
On June 30, Jay-Z released his first album in four years. The rapper bared himself as he rarely had before in "4:44," apologizing to Beyonce for his infidelity and pouring out love for his mother whom he reveals to be lesbian.
He has also announced a North America tour, with 31 dates across the United States and Canada from October to December.
As an expectant mother, Beyonce made a New Age celebration of women at the Grammy Awards earlier this year -- putting on an extravagant, abstract performance while proudly displaying her baby bump cloaked in a flowing gold gown.
Rumi is the name of the 13th-century Persian poet who endures as one of the best-loved writers of the Sufi spiritual tradition, with verses that celebrate love, joy and tolerance.
On "4:44," Jay-Z alludes to Persian poetry on the song "Marcy Me," which describes his upbringing in a public housing project.
Appearing to liken his rhyming skills to the literary tradition, Jay-Z raps, "Sufi to the goofies / I could probably speak Farsi."