Last Updated On 03 July,2017 01:19 pm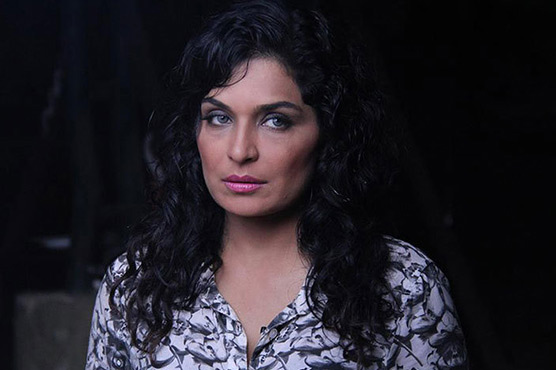 Meera's witty tweets have recently become a hit on social media.
LAHORE (Raacikh Asghar): Media's favourite girl and Pakistan's leading film actress, Meera has always been at the centre of the country's entertainment news, often being surrounded by controversies. Recently, however, the Lollywood actress has taken to social media where her tweets laden with wit, sarcasm and humour have stirred quite a bit of a storm.
And with the film actress often being at the heart of public humour surrounding her English speaking skills, Meera seems to be battling it out on the social media front. Though even that has been met with cynicism with some doubting the authenticity of the tweets.
The glamour girl from Lahore has recently been making waves for her epic comments and replies on Twitter, delivered in English so full of wit and fluent English that it has got everyone talking. Even though most people, including her fans on social media, believe that the actress has been taking help from some experts, Meera herself dismissed claims. The actress has stated that she is the one behind her new spur on Twitter taking only 'occasional' help from her friends.

"My English is actually exceptionally good. There was a time when I was learning the language and people would make fun of me when I would fumble. This just shows how complexed and insecure our society is. I now speak very good English and I would love to one day be interviewed by an international English-speaking channel where I could talk sensibly instead of the snickering journalists that pervade Pakistan," she said in a recent interview to Dawn..
Meera's improved English and witticism on Twitter became a hit on social media for the first time following Pakistan's epic victory over arch-rivals India in the recently concluded Champions Trophy final when she responded to Rishi Kapoor's much controversial tweets over the Indo-Pak cricket final giving Twitteratis a tweet of their lifetime.
Replying to one of the Indian actor's comments, Meera Jee replied: "Sir ka hangover utar gaya" (Sir has finally recovered from his hangover).
---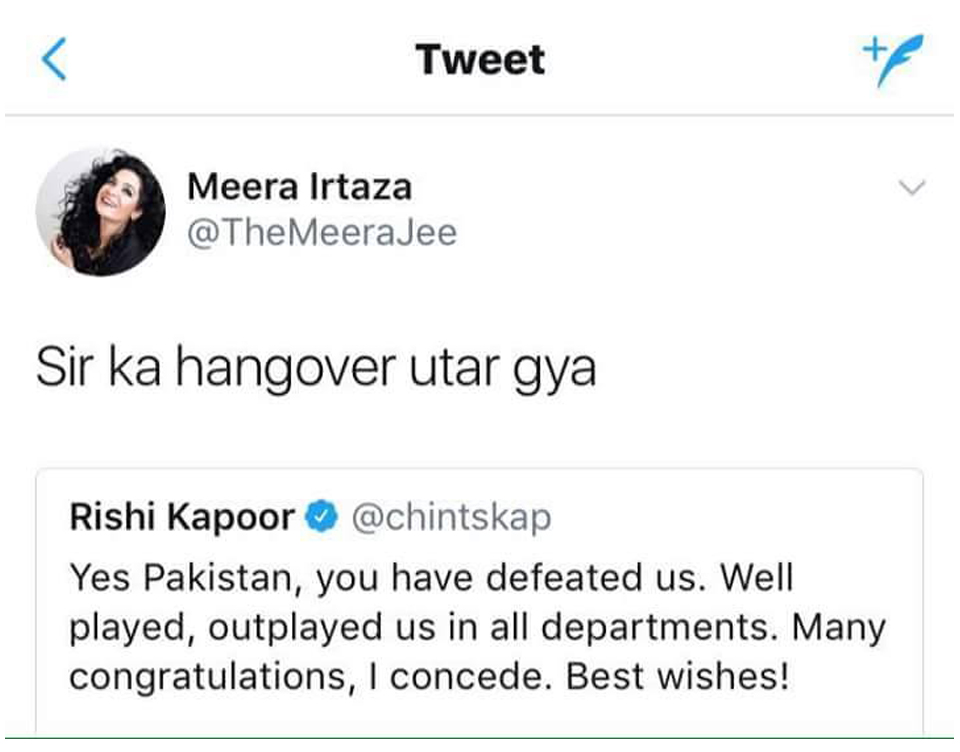 ---
Adnan Sami too joined the list of actors roasted by Meera.
---
It s just a game folks... Get over yourselves!

— Adnan Sami (@AdnanSamiLive) June 19, 2017
It was just weight dude... but glad you got over it https://t.co/YF3ZwGszbc

— Meera Irtaza (@TheMeeraJee) June 19, 2017
---
Even our own Prime Minister's daughter has to face some of the chin music.
---
---
Our 'waili awaam' was also served with the most savage replies.
---
Nation has much better activities to do rather watching marasi

— Saeed Ahmad (@zafa947) June 28, 2017
Par yeh likhne k liye aap k paas bohut time tha https://t.co/ktZyJdHvSR

— Meera Irtaza (@TheMeeraJee) June 28, 2017
---
While the actress continues to tweet about her photoshoots, interviews and dining out, it is her sizzling humour that appears to make people come back for more and more.