Last Updated On 20 June,2017 12:59 pm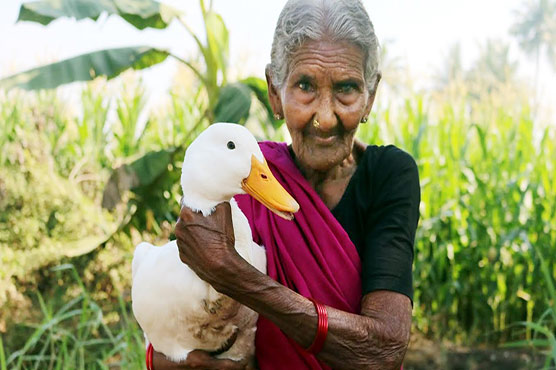 The world's "oldest" YouTuber has taken the social media by storm.
(Web Desk) - It's not often that you see someone cross the age of 90 let alone be active at such a vulnerable stage in life, but Ms. Mastanamma is not only fully active at the age of 106, she is still doing what she does best - cooking. The story of the 106-year-old granny is fairly unique to say the least.
Unlike many of us that are too lazy to do anything, this 106-year-old has already done wonders. The woman from Andhra Pradesh, India is a YouTube sensation. With the help of her great grandsons who film her while she cooks traditional Indian dishes, Mastanamma has a YouTube page with over 400,000 subscribers, that goes by the name of "Country Foods".
---
---
From delicious soups to traditional Indian Daal to even the unconventional Tortoise curry, the 106-year-old granny has almost every weapon in her arsenal and is taking the internet by storm. Already many of her followers have learned a lot from the veteran and continue to do so.
Regarding her secret to her unparalleled age, the Indian says: "I used to eat a lot of ghee, meat, fish and even Tortoise curry". Even though the 106-year-old has no teeth and cataracts in both her eyes, her passion for cooking is what keeps her alive and going. She says that she will continue to cook and serve her family and neighbors with delicious food.
Earlier, a video posted by Al Jazeera on the micro-blogging website, Twitter, featuring the veteran chef received an overwhelming response from her fans across the globe.
Here are some of the tweets:
---
The #stories she must tell. I envy her children and grandchildren and their children, too.

— Olivier A. (@AbouOlivier) June 19, 2017
---
---
She s so cute .... I can already taste her mango pickles.

— Aneta Augustine (@jackedbylit) June 19, 2017
---
---
she s so cute

— neelam. (@asdfghjklNeelam) June 19, 2017
---
---
To show really how in love we are with the granny, here is a short clip from her channel, "Country Foods". In this cute clip, the 106-year-old tells her secret to success.
---
---