Last Updated On 13 June,2017 02:53 pm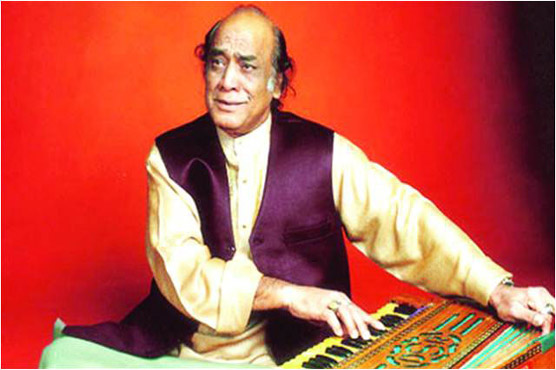 The maestro's fifth death anniversary is being observed today.
(Web Desk) - The fifth death anniversary of the King of Ghazal, Sir Mehdi Hassan is being observed today (June 13th). With exceptional control in the execution of world class classical music and singing, Mehdi Hassan stood out from the rest of the singers of his time. The "Rafta Rafta Who Mere" singer is still remembered to this date as one of the best Musicians the sub-continent has ever seen.
The singer was born on the 18th of July in the year 1927 in Rajasthan, India, to a family of musicians. In order to keep up with the tradition, Mehdi Hasan began training under his father and mentor, Ustaadh Azeem Khan as well as his uncle Ustaadh Ismail Khan.
During his initial practice years, Mehdi Hassan solely focused on Thumri—light romantic Indian music. Soon after the partition in 1947, however, Mehdi Hassan and his entire family migrated to the small town of Chichawatni in Pakistan. Hassan debuted at the age of 30, on Radio Pakistan in the year 1957 and from then on, the singer never looked back.
On the maestro's 5th death anniversary, here we look at five of his best and most famous Ghazals.
5) Mujhay Tum Nazar Say:
The famous song has been covered by many artists over the years most notable being the recent performance of Ali Zafar. However, none could match the class of the original sung by the maestro. The song was originally sung for the black & white, Pakistani Urdu film, Doraha in the year 1967. The music of the film was composed by the famous Pakistani composer Sohail Rana.
---
---
4) Dunya kisi kay pyaar mai:
The song was part of Mehdi Hassan's famous Album Kohinoor (The Timeless Classics) which was released relatively recently on 07/11/2010. The song originally however, was sung in 1966 for the movie "Jaag Utha Insaan". Sheikh Hassan was the director of the movie and the song was written by Dukhi Saheb. The famous song has been covered exceptionally by a British singer, Tanya Wells.
---
---
3) Gulon May Rang Bharay:
The song was written by famous Pakistani poet, Faiz Ahmed Faiz and was composed by Rasheed Attre. The song has also been covered by many Indian singers, most recently by Arijit Singh.
---
---
2) Rafta Rafta Woh Meri:
The song was originally sung for the movie Zeenat which was released in the year 1975 and was composed by Shaukat Hussain Dehelvi also known commonly as Nashad. The famous Ghazal was written by Tasleem Fazli.
---
---
1) Ranjish He Sahi:
Ranjish Hi Sahi is one of the most popular works of Mehdi Hassan. The Urdu Ghazal was popularised by Iqbal Bano. It was originally written by the famous Ahmed Faraz
---
---