Last Updated On 12 June,2017 09:17 am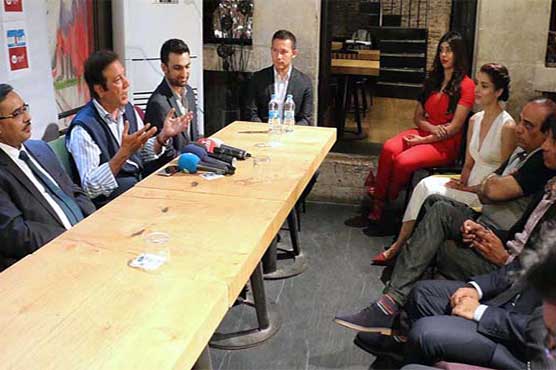 Javed Sheikh hoped that the release of the movie would be an important part of celebrations.
ISLAMABAD (APP): Ambassador of Pakistan in Turkey Sohail Mahmood has said that efforts are underway to further promote Pakistan-Turkey collaboration in joint production and exchange of films and TV serials.

According to a message received here from Ankara Sunday, he was addressing a press conference held at the conclusion of the shooting for an upcoming film "Wajood" by Pakistan's most accomplished and well-known director, producer and actor Javed Sheikh.

"Wajood" has been shot at various locations in Turkey, including Rize, Antalya and Istanbul. Its cast consists of leading actors from Pakistan's film industry, with Danish Taimur playing the lead role.

Ambassador Sohail Mahmood noted that 2017 marked the 70th year of diplomatic relations between Pakistan and Turkey. The Pakistan Embassy, in collaboration with relevant Turkish authorities and institutions, was organizing cultural and literary events to celebrate the milestone in a befitting manner, he added.

He hoped that the release of the movie would be an important part of such celebrations.

Referring to the revival and revitalization of the film industry in Pakistan, Ambassador Sohail Mahmood said the transformation was part of a larger process in which phenomenal growth of Pakistani music, visual and preforming arts, and literature had taken place. A key element of that growth and expansion was the deeper involvement of younger artists, who were highly motivated, talented, and enterprising.

Lauding the multidimensional talents of Javed Sheikh and his role as a mentor for the new generation of artists, he underscored that Javed Sheikh had introduced Turkey's breath-taking natural beauty and the warmth and graciousness of the Turkish people to Pakistani audiences through his earlier films, including "Chief Sahib" made in 1995.

The ambassador said it was also heart-warming that in the last few years, the entertainment industry in Pakistan and Turkey had played an important role in bringing the two brotherly people even closer to each other

While Turkey, he added, had a well-established and experienced film production and distribution chain, Pakistan, with its nearly 200 million population, had a strong viewer market with an increasing desire for quality entertainment. That created immense opportunities for the producers in both countries to distribute and display their films and drama serials in each other's markets.

Speaking on the occasion, Javed Sheikh highlighted the theme of the movie as well as its cast and production team. He thanked Ambassador Sohail, the Pakistan Embassy and the Turkish authorities for providing all possible facilitation and support during the shooting.

He also spoke highly of the love, affection and respect of the Turkish people for the people of Pakistan, which he and his crew members consistently experienced first-hand during their stay.

Thanking Turkish Airlines for its support of the movie, Javed Sheikh underlined that the remarkable scenic beauty of Turkey, and especially of Rize for the first time ever, would be transmitted to the Pakistani people with the release of Wajood and tourism would surge.

Pakistan's Consul General in Istanbul Dr Yusuf Junaid and Shaan Agha of Azad Films also spoke while the film's heroine Saeeda Imtiyaz and other leading cast were present.