Published On 28 May,2021 05:44 pm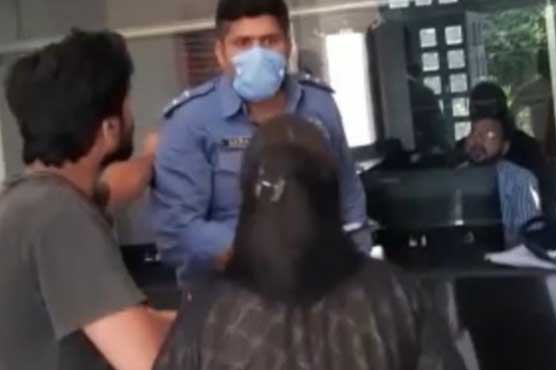 Traffic warden filmed in a scuffle with two citizens in Lahore
LAHORE (Lahore News) – A video from May 25 recently surfaced with the claim that a traffic warden lost his temper and got in a scuffle with two citizens inside North Cantt police station.
DIG Operations Sajid Kayani directed SP Cantt to probe into the incident after the video went viral on social media.
DIG Operations said that action would be taken against the officer if the investigation finds him guilty, as improper treatment of citizens inside police stations was completely intolerable.
Lahore CTO Syed Hamad Abid while talking to Lahore News said that he was directed by the IG and CCPO to conduct a probe into the incident. He said that the man in the footage was stopped by traffic police for not wearing a helmet or mask, after which his sister tried to intervene and began arguing.
On inquiry, it was found that the man had an expired license after which he and his bike were taken to the police station. The woman followed them into the police station and a scuffle broke out between the traffic warden and the two siblings.
The CTO requested the citizens to cooperate with authorities whenever they are stopped by police.