Knights Templar leader captured over Mexican homicides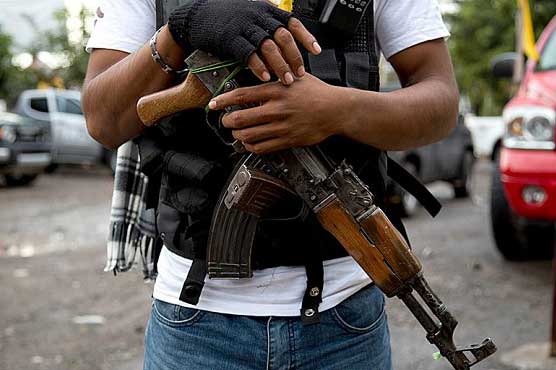 Pedro Naranjo Garcia was associated with the murder of 15 people last year in Apatzingan.
MEXICO CITY (AFP) - Mexican police arrested a leading figure in the Knights Templar drug cartel who they say is linked to more than a dozen deaths, prosecutors in the country s troubled Michoacan state said.
Pedro Naranjo Garcia was "associated with the murder of 15 people last year in Apatzingan," a town in western Mexico, state prosecutors said on Twitter Friday.
The leader was an operator under Nazario Moreno, the former head of the Knights Templar who was killed in a shoot-out with soldiers in Apatzingan on March 9, in a major blow to the group.
Newspaper reports Friday said that the 15 victims were day laborers working on a ranch that was part of an area "strategic for Nazario Moreno s illegal activities."
In March, authorities in Michoacan state -- the stronghold for the cult-like cartel -- unearthed 13 bodies in a secret grave in the small, rural enclave of El Alcalde, which belongs to Apatzingan.
The Mexican press said that the individuals were from the group of 15 killed in 2013.
The Knights Templar has seen its leadership largely dismantled, with authorities having killed or captured three of its four major capos this year. However security forces are still hunting for top leader Servando Gomez, known as "La Tuta."
Michoacan, on Mexico s Pacific coast, is a key trafficking area in the drug trade to the United States.
In response to the security crisis, the Mexican federal government has deployed 10,000 federal police and troops in the state since late 2013.