Pakistan to prove equal to the task, Babar assures nation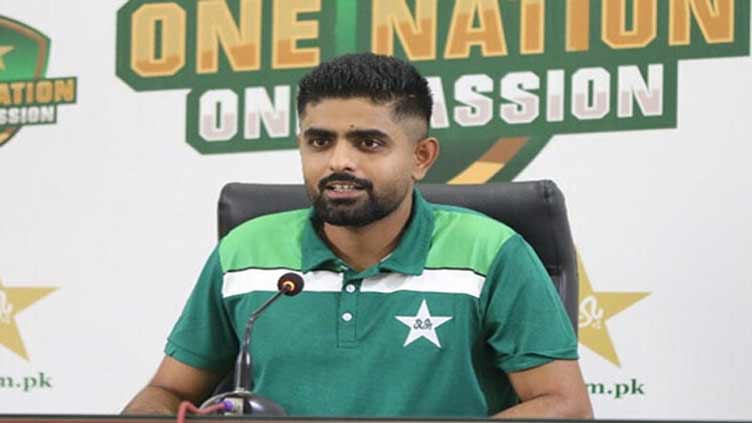 Cricket
The skipper said that team could not perform well in the last two matches of Asia Cup
LAHORE (Dunya News) – Pakistan cricket team captain Babar Azam says the players are united and in high spirits to win the ICC World Cup 2023.
Addressing a press conference ahead of team's departure for India on Tuesday, the skipper said the players were fully prepared and would try their level best to win the world cup.
Before losing matches in the Asia Cup, he said Pakistan were considered number one team and it was only because of sheer hard work and dedication of the players. "We will try not to repeat the Asia Cup mistakes in the World Cup," he said.
Pakistan team had at least a week before the world cup, he said, adding that the players were not facing any pressure. As for the playing combination, he said it's something which could be decided only on the day of the match.
The skipper said the team could not perform well in the last two matches of Asia Cup. "No player is 100 per cent fit is what he learns daily but we will step in the field with a great deal of planning," he said.
Also Read: Visas issued for Pakistan team for World Cup in India
"We have no pressure of playing cricket in India. We need to improve our fielding and we will also focus on taking wickets in the middle overs, he added.
Answering a question, Azam said he would not take pressure even after bad performance. "I trust teammates more than myself," he said. He also expressed hope that the spinners would prove equal to the task.
Babar Azam's pre-departure press conference | ICC World Cup 2023#WeHaveWeWill | #CWC23 https://t.co/dKvrHiBHQt

— Pakistan Cricket (@TheRealPCB) September 26, 2023
As for Hasan Ali's inclusion in the team, the skipper said he was selected after deliberation. "We will miss Naseem Shah... the pair of Shaheen and Naseem was very beneficial for the team and it is not yet clear who will get the new ball"?
Babar Azam said, "we will try to win all nine matches." He hopes the Indian cricket fans will also support the Pakistani team.