Injury drives mighty all-rounder Shadab to spend few days at rest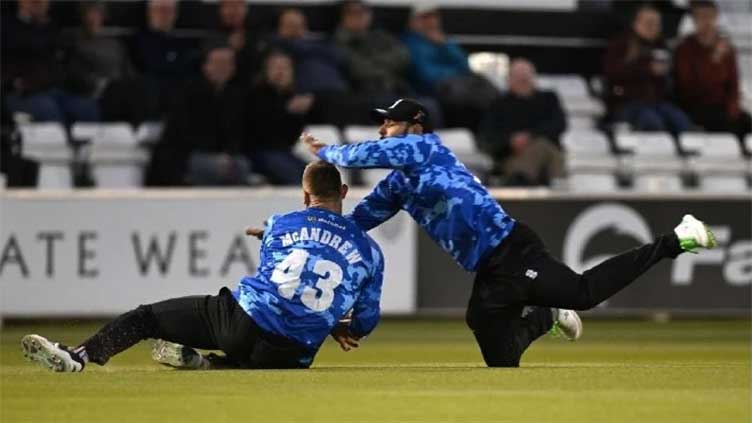 Cricket
Incident occurred when Shadab Khan collided with his teammate Nathan McAndrew
(Web Desk) – Shadab Khan, Pakistani phenomenal all-rounder said that he would take a few days rest to recover from the injury he sustained during the match between Sussex Sharks and Somerset at the ongoing T20 Vitality Blast.
The incident occurred when Shadab Khan collided with his teammate Nathan McAndrew in the Shadab's debut match in the Vitality Blast.
Taking to Twitter, he said his concussion tests have been performed while saying now he would take rest for some days.
"Alhamdulilah I am better and feeling good. My concussion tests are all done. As a precaution I will take rest for a few days. Thank you for all your prayers and support," the spinner wrote on Twitter.
Due to the injury, Shadab did not come out to bowl and it helped Somerset to easily chase the 184-run target. He earlier faced eight deliveries and scored 9 runs powered by a six in the first innings.
the collision between Shadab and McAndrew occurred on the fourth ball of the seventh over when Somerset's Tom Kohler-Cadmore top-edged a delivery over extra cover.
The collision happened between Shadab and McAndrew in the seventh over when Tom Kohler-Cadmore top-edged a delivery over extra cover.