Babar Azam confident about Pakistan's T20 World Cup chances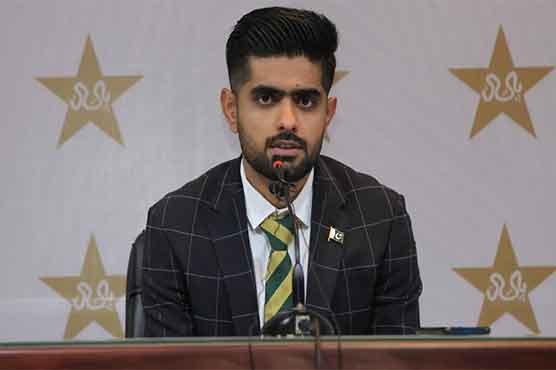 The Pakistan captain addressed a virtual media conference.
LAHORE (Dunya News) – The Pakistan national men's cricket team will depart on Friday morning for the United Arab Emirates to feature in the ICC Men's T20 World Cup and captain Babar Azam says his team has made the most of the opportunities to prepare for the global event.
All of Pakistan squad members featured in the National T20 – the country's leading T20 competition – which provided them the desired match practice. Over the last four days, the squad has had training session and played a scenario-based match. They will play another scenario-based practice match on 14 October at the Gaddafi Stadium ahead of their departure.
"The National T20 has provided us the desired match practice," the Pakistan captain told a virtual media conference. "In the last four days, since our squad has gathered, we have practiced hard. Our aim was to prepare as much as we can as a group ahead of the mega event as you don't really have time to adjust and need quick decision making."
Pakistan will play their tournament opener on 24 October against India in Dubai. They will take on New Zealand two days later at the Sharjah Cricket Stadium, following which they will return to Dubai to play Afghanistan on 29 October. Their last two matches will be against the sides, who qualify from round one.
While this will be Babar's first T20 World Cup, it will also mark the first instance of the Pakistan all-format skipper leading the country in a world event.
"I am extremely proud that I am traveling to the T20 World Cup as a Pakistan captain," he said. "It is always important to start well in the tournament. We want to start well and carry the momentum throughout our campaign.
"We are full of confidence about our chances in the World Cup and I have no doubt that the team will deliver on the given day. In this high-profile event, staying focused and remaining calm will be the key."
Pakistan won the second edition of the tournament – played in 2019 – by beating Sri Lanka in the final on 23 June at Lord's.