Shoaib advises Amir to come out of shadows of Mickey Arthur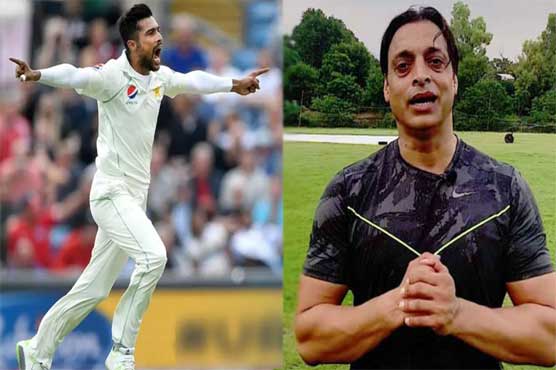 He said Amir should have realized that 'papa' Arthur will not always be there to safeguard him
(Web Desk) – Former Pakistan fast-bowler Shoaib Akhtar has asked left-arm pacer Mohammad Amir to 'grow up' and improve his performances on the field rather than retiring from international cricket.
The former pacer asked Mohammad Amir to learn from Mohammad Hafeez and how he has been able to score runs and make his way to the side despite his run-ins with the management. He added that it is about time when Amir grows up and comes out of the shadows of Mickey Arthur.
The frequent run-ins between Mohammad Amir and Pakistan s team management has been out in the public domain in the last few years. Mohammad Amir has never shied away from slamming the way he was handled by Pakistan s team management that prompted him to call it quits from international cricket for the country far earlier than expected.
Amir had announced his retirement from international cricket in December last year after a fallout with head coach Misbah ul Haq and bowling coach Waqar Younis.
"Amir should have realized that 'papa' Mickey Arthur will not always be there to safeguard him and he has to now grow up," Akhtar said.
Shoaib said that players should have the wherewithal to handle both good and bad days. "You must be matured enough to realise that the management is not going to act according to my wishes. Therefore now I have to raise my performance and level of hard work," he said.
Akhtar also supported coach Misbah's stance on Amir. "Misbah is right when he says that Amir's pace has gone down. There is nothing wrong with that assessment," he said. "I don't think the team management was unfair with Amir. They gave him ample chances before he was dropped from the team."