Most Pakistanis face price gouging in Ramazan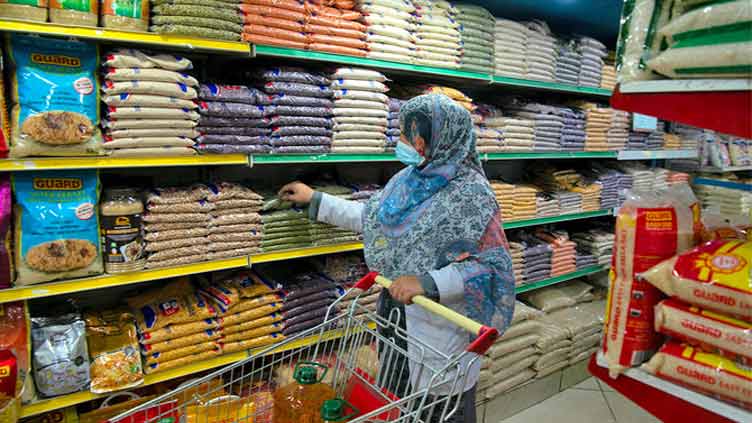 Business
A comparative SPI data indicates that consumers will be facing much more financial stress in Ramazan
By Faisal Ali Ghumman
Pakistanis have 'embraced' the holy month of Ramazan this year amid unprecedented inflation, dwindling incomes and growing joblessness.
Where the prices of food items have already skyrocketed ahead of the holy month owing to the country's uncertain political and economic situation, massive increase in electricity, gas and fuel rates have aggravated the consumers' miseries.
The mounting joblessness triggered by economic slowdown has shaken a good number of families who are likely to face a serious challenge in arranging Sehr and Iftaar meals.
There's hardly any household who isn't talking about the situation and inability to buy costly food items. The squeezing of pockets has pushed the people to borrow money from relatives and family friends to run the monthly cycle. This is now a usual practice that the traders jack up prices without any solid justification during the holy month despite tall claims of price check mechanisms by the governments and district administrations.
Each basic food item is now getting out of households' reach as sellers are often seen exploiting the buyers on the pretext of rupee-dollar parity.
A price comparison -- based on the data of the Sensitive Price Index (SPI) -- between the first week of Ramazan in April 2022 and a day ahead of Ramazan this year shows that consumers remained in distress especially in procuring average quality wheat flour.
Consumers are buying a 20kg flour bag between Rs1,295-3,100 in various parts of the country against Rs800-1,500 per bag price last Ramazan. Five- and 10kg branded fine flour bags are now available at Rs820-870 and Rs1,600, showing a rise of 80-90pc over the last year.
Similarly, flour No 2.5 and fine variety are being sold at Rs140 and Rs150-160 per kg respectively as compared to prices of Rs65-67 and Rs70-75 per kg in last Ramazan.
The SPI data further reveals that sellers are charging Rs100-200 per kg onion as compared to Rs40-80 per kg last Ramazan, potato rate increased up to Rs40-100 per kg from Rs25-60 per kg, while sugar price surged to Rs100-110 from Rs83-95.
Gram Pulse (Daal Channa) rate climbed to Rs220-320 from Rs148-200 per kg. Masoor, Moong and Mash rates surged to Rs240-330, Rs250-350 and Rs280-480 per kg from Rs190-240, Rs116-220 and Rs200-310 per kg since the last Ramazan.
One kg ghee pouch of Dalda has jumped to Rs570-638 from Rs399-484, while five-litre Dalda cooking oil rate has shot up to Rs3,000-3,510 from Rs2,060-2,485. However, many retailers are demanding Rs650-670 for branded cooking oil and ghee.
Fresh milk rates in various cities now hover between Rs120-210 per litre as compared to Rs90-150 a year back. One kg live poultry bird rate ranges between Rs360-550 per kg versus Rs240-350.
Mutton and beef with bones are now available at Rs1,100-1,800 and Rs500-900 as compared to Rs1,050-1,500 and Rs350-750 per kg.
In Karachi, mutton retailers, who were charging Rs1,600 per kg two weeks back, are now demanding Rs1,800. Beef without bones is being sold at Rs1,000 per kg.
White gram (white channa) sells between Rs400-450 per kg versus Rs250 last year, while black gram (kaala channa) is now available at Rs220-260 per kg in different sizes as against Rs120-150 last year.
Vermicelli and salt pack prices are almost double than these were last year. Lipton tea pack (less than 250 grams) now sells at Rs413-558 as compared to Rs250-260.
High-quality basmati rice sells between Rs300-500 per kg now as compared to Rs150-300 per kg last year. Average quality basmati is now priced at Rs150-240 as compared to Rs80-140 per kg while Irri 6/9 (Sindh/Punjab) carries a price tag of Rs80-180 per kg as against Rs60-100.
Though the coalition government has announced Rs5 billion Ramazan relief package for the poor in addition to Rs100 petrol subsidy for motorcyclists, rickshaw owners and people using below 800CC vehicles, the availability of subsidised items to a large segment of population seems a daunting task.
As far as the subsidy on petrol for the poor is concerned, Minister of State for Petroleum Dr Musadik Malik has already conceded some shortcomings in the government's proposed fuel subsidy scheme in the first phase.
Cash-strapped Pakistanis are also ready to embrace unprecedented tariff hikes in electricity and gas rates as demanded by the IMF.
Economic experts fear the inflationary pressures will continue to grow unless the country's economic managers come up with some solid fiscal and monetary rescue plan.