Pakistan's textile exports decline nearly 30pc in Feb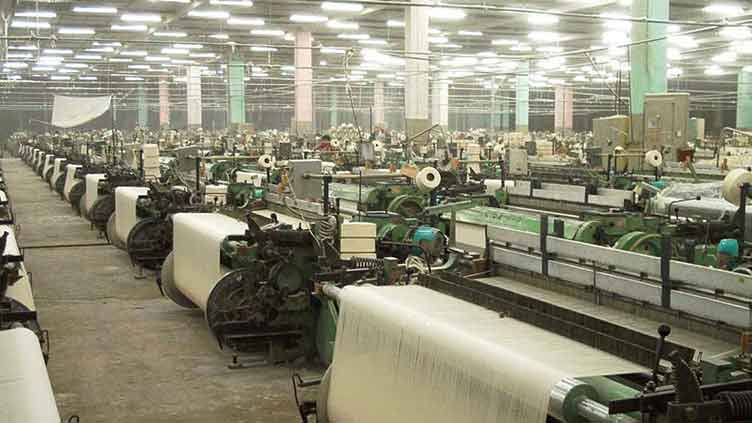 Business
The decline is the highest in a single month since Covid-19 pandemic
ISLAMABAD (Web Desk) - The country's textile and clothing exports dipped 29.76 per cent in February this year to $1.18 billion as compared to $1.68bn over the same month in 2022, data released by the Pakistan Bureau of Statistics (PBS) shows.
The textile and clothing exports also fell 11.09pc to $11.21bn in first eight months (July-February) of FY23 against $12.61bn over the corresponding months of last year.
The overall export proceeds contracted for the sixth consecutive month in a row. The drop shows the government would find it difficult to achieve the export target this fiscal year leading to more pressure on foreign exchange reserves of the country.
The breakup of PBS data shows that the exports of readymade garments recorded 28.35pc negative growth in value in February and 2.98pc in quantity, while knitwear dipped 33.51pc in value but grew 17.22pc in quantity, bedwear posted a negative growth of 25.80pc in value and 19.34pc in quantity.
However, towel exports declined by 17.44pc in value and 11.53pc in quantity, whereas those of cotton cloth dipped by 33.84pc in value and 28.25pc in quantity. Among primary commodities, cotton yarn exports declined by 56.65pc, while yarn other than cotton by 56.39pc.
The export of made-up articles excluding towels dipped by 23.97pc, and tents, canvas and tarpaulin went up by 83.10pc.
The drop in textile and clothing exports is gaining momentum over the last sixth months due to multiple factors including high energy costs, stuck-up refunds and a slump in global demands despite the massive depreciation of the rupee.
Exporters are of the view that one of the main reasons behind falling exports was the exchange rate instability. The discontinuation of duty drawbacks on local taxes and levies by the government has also created liquidity issues for the export sector.
They fear withdrawal of subsidised power tariff from March 1 under the IMF conditions will further hit the overall export sector.
The piling of containers at ports is also contributing to the decline in exports, exporters say and add the impact of this decision will be visible in the next few months.
The ministry of commerce (MoC) didn't issue any official statement to explain the reasons for the decline in export from the country.