Dar seeks budgetary support to cope with flood challenges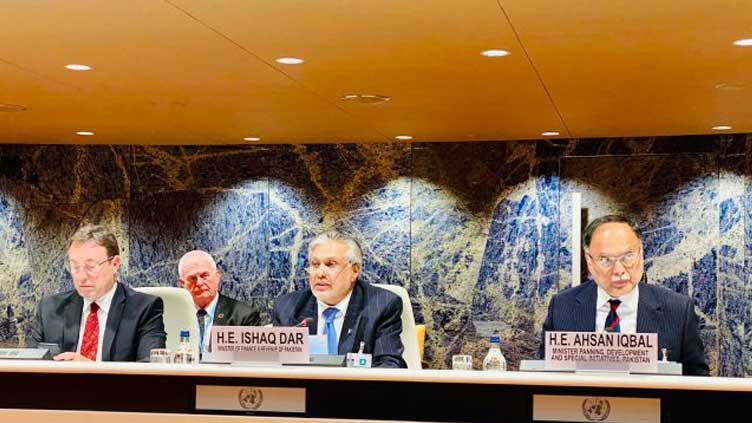 Business
Dar seeks budgetary support to cope with flood challenges
GENEVA (Dunya News) – Federal Minister for Finance and Revenue Senator Mohammad Ishaq Dar on Monday sought budgetary support to create fiscal space for the Pakistan Government to continue substantive relief for over 33 million flood-affected people.
"Pakistan's urgent expectation from this conference is not merely a commitment of resources for reconstruction and rehabilitation in short-to-medium term but we are also looking forward for budget inflows and assistance during the remainder of the current fiscal year," he said while co-chairing the First Plenary Session: 'Pakistan's Resilient Recovery Strategy', during the International Conference on 'Climate Resilient Pakistan'.
This, he added, would make it possible for the government to continue providing the much-needed relief to the flood-hit people.
"Let me say a few words that if considered appropriate by friendly countries, debt swaps and other use of financial instruments tied to the relocation of equivalent domestic budgetary resources would also free up these resources to be spent for this noble purpose."
He said the support from the friendly countries and multilateral donors would not only help with flood relief and rehabilitation but would also create fiscal space and external debt sustainability for the country.
The minister, however, clarified that Pakistan remained committed to its international obligation and was on track regarding its macroeconomic fiscal reform agenda "which focuses on increasing revenues, increasing spending on social programmes, decreasing expenditure to create more fiscal space for the reconstruction and rehabilitation phase which we have to undertake in the next here years".
He said Pakistan was now facing challenges on account of additional outlays incurred and projects for flood-related rescue relief and rehabilitation needs. Existing limited space negatively impacted Pakistani's ability to provide resilience and determination to all those affected by the natural disaster.
He said Pakistan was carrying out the fiscal reforms necessary for long-term recovery and sustainability, however, it urgently needed short-term assistance to navigate through a number of challenges.
"We hope that our friends, partners and supporters always stand with us by providing the required assistance during this most critical phase of Pakistan," he added.
The minister highlighted the need for fighting climate change together and expressed gratitude to the international community for supporting Pakistan at the time of the unprecedented crisis.
Ishaq Dar said while Pakistan was facing the challenges faced by global adverse developments, like the Russian-Ukraine war, energy crisis, rising inflation and hiking poverty, it had to face the catastrophe of unprecedented floods in recent history.
He said the floods caused devastation particularly in Sindh and Balochistan provinces, with over 33 million people affected, over 1700 lives lost, 13,000 injured, and millions of women and children became vulnerable while a total of 13,000 kilometers of roads and 440 bridges were destroyed, five million of crops damaged, over two million houses were either damaged or destroyed and around one million livestock was confirmed to have been dead or missing.
He said a significant portion of the country remained submerged in waters for months affecting subsequent crop cycles and closing down schools and hospitals. Around 2,2000 schools were affected leaving 3.5 million students without access to classrooms, hence leading to a learning crisis.
He said making rehabilitation its top priority, the government through its Benazir Income Support Programme (BISP) provided cash assistance of Rs 17 billion to the flood victims. He appreciated the World Bank's (WB) prompt assistance of US$ 1.6 billion for rehabilitation and an additional US$ 500 million for building a climate-resilient Pakistan.
He said the Post Disaster Needs Assessment (PNDA) report conducted by the Word Bank, the United Nations Development Programme, the European Union, and the Asian Development Bank with the assistance of Ministry of Planning, Development and Special Initiatives had estimated economic and physical losses caused by the floods at over US$ 30 billion.
He said the calculation for rehabilitation and reconstruction work was estimated at US$ 16.3 billion. Keeping in view the size of the gross domestic product, Pakistan should be able to contribute US$ 8 billion for reconstruction during the next three years.