Reason for inflation is not interest rate but supply issues: Reza Baqir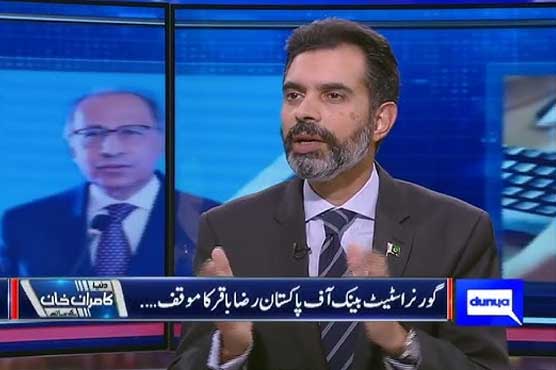 The SBP governor said that the monetary policy is fully supporting the economic growth
KARACHI (Dunya News) – Governor State Bank of Pakistan Dr Reza Baqir on Friday said that considering the inflation, the real interest rate is negative and the reason for inflation is not interest rate but supply issues.
Speaking exclusively in Dunya News program "Dunya Kamran Khan Kay Sath", he said that the monetary policy is fully supporting the economic growth, adding that the basic interest rate is 7 percent while the rate of inflation is 11 percent.
The SBP governor said that inflation could be limited to 9% for the entire financial year and real interest rate is negative if inflation is taken into account. He said the price will have to be paid if the financial support of the economy is withdrawn and financial aid can be considered to be cut only once the coronavirus is under control. There is still no risk of "overheating" in the economy.
Dr Baqir went on to say that the reason for inflation was not interest rates but supply issues, adding that the interest rates on electricity, chicken and dairy cannot be reduced. Our point is that interest rates should not be changed.
He said the central bank provided Rs2000 billion financial packages during the pandemic situation and approved Rs450 billion loans under cheap tariff, while many other financial packages have been given that are still in the pipeline.
He further said that the International Monetary Fund (IMF) had projected economic growth of 1.5 percent while we had projected 3 percent economic growth. He said economic momentum was being measured by the consumption of vehicles, cement and electricity, adding that the latest economic data has been better than expected.