Published On 12 February,2021 06:48 pm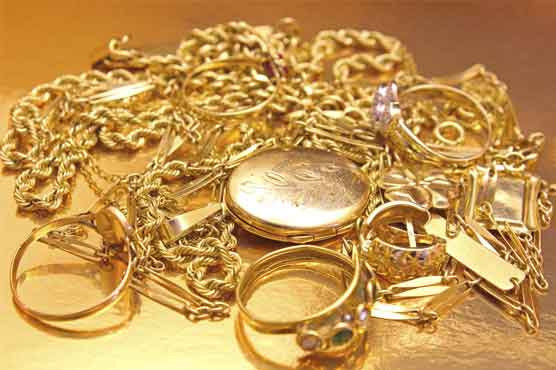 The price of 10 gram 24 karat gold also decreased by Rs 685 as it was traded at Rs 95,165
ISLAMABAD (Dunya News) – The price of 24 karat per tola gold decreased by Rs 800 on Friday as it was sold at Rs 111,000 against its sale at Rs111,800 the previous day, Karachi Sarafa Association reported.
The price of 10 gram 24 karat gold also decreased by Rs 685 as it was traded at Rs 95,165 against its sale at Rs 95,850 last day.
Similarly, the price of 10 gram 22 karat was recorded at Rs 87,234.
The price of per tola silver increased by Rs10 and was sold at Rs1400 against it s sale at Rs1390 whereas that of ten gram silver increased by Rs8.57 and was sold at Rs1120.27.
The gold price in the in international market witnessed decrease of US$23 as it was sold at US$1,819 against $1,842 last day, the association added.