PM Khan meets potential investors in China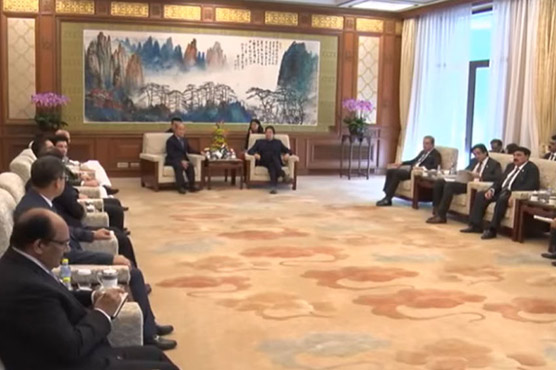 Moreover, Orient Holdings Group Limited Chairman Jiang Xueming held a meeting with PM Khan.
BEIJING (Dunya News) – China Gezhouba Group Corporation Chairman Lyu Zexiang on Tuesday called on Prime Minister Imran Khan in Beijing and expressed keen interest for investment in the energy sector of Pakistan.
Mr Zexiang also expressed interest in exploring new business avenues in Pakistan.
China Gezhouba Group Corporation (CGGC) is one of the most competitive listed companies with very strong financing capabilities. It has expanded its businesses in more than 100 hundred countries.
Moreover, Orient Holdings Group Limited Chairman Jiang Xueming held a meeting with PM Khan.
Orient Group has business areas involving infrastructure construction, real estate development, construction materials, chemical fibre, mining, e-commerce, new materials and intelligent manufacturing, etc.
Later, Long March Tyre Company CEO Li Qingwen also met PM Khan and discussed matters pertaining to investment in Pakistan.
Chaoyang Long March Tyre Co Ltd is a member of the Lianoning Tyre Group and is one of the best tyre manufacturers.
Foreign Minister Shah Mahmood Qureshi, Minister for Planning Makhdoom Khusro Bakhtiar, Minister for Railways Sheikh Rashid, Adviser to the PM on Commerce Razaq Dawood, Special Assistant to the PM on Petroleum Nadeem Babar and Board of Investment (BOI) Chairman Zubair Gilani were also present in the meeting.
Importantly, the chairman of the China Metallurgical Group Corporation – the longest running construction group in China's iron and steel industry – also called on the premier.
PM Khan has invited Chinese companies to invest in the diverse sectors of Pakistan including housing, textile, manufacturing, information technology (IT) and financial services, physical and technological logistics, agriculture, oil and gas, and tourism and hospitality.
The premier addressed China Council for Promotion of International Trade in Beijing and outlined that Pakistan has taken measures to facilitate businesses. "It is great time for Chinese companies to invest in Pakistan."
He assured that the PM Office would deal with all major investments including those of the CPEC. The PM mentioned to have established the CPEC Authority to resolve all outstanding issues hindering the implementation of the CPEC projects.
He said Gwadar smart port city master plan has been approved. "Work on the Gwadar airport is in progress and it will be completed soon […] we are now especially concentrating on our Special Economic Zones (SEZs)" he said.
Khan said Pakistan has been encouraging businesses to make big profits as stable economy would enable the state to lift the people out of poverty on the pattern of China.
He said the second phase of the CPEC would primarily focus on industrial and agriculture cooperation.
He said Pakistan aims to learn from the experiences of China to enhance the productivity of our agriculture sector.
The PM said security situation has improved in Pakistan due to the efforts of security forces and intelligence agencies.
"Pakistan is one of the safest places for investment in the world. We have established a special security force for the protection of Chinese workers."
He said the present government has also liberalised the visa regime and the Chinese nationals could obtain visa-on-arrival at the international airports.
Alluding to the geostrategic location of Pakistan, Imran Khan said Pakistan's unique location and its young and vibrant population has made it an attractive country for investment.
He said our labor cost was only about 20 percent of that in China.
The PM said his government has taken a conscious decision to ensure ease of doing businesses.
PM Khan hailed economic progress achieved by China, saying that it was an example for the whole world how the country has lifted 700 million people out of poverty over the last 30 years.
He appreciated Chinese President Xi Jinping's campaign to eradicate corruption.