Medics transfer 28 premature babies from Gaza to Egypt to save lives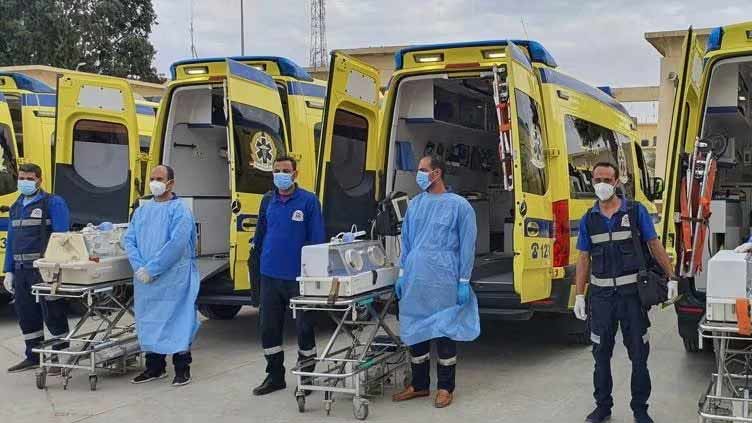 World
Medics transfer 28 premature babies from Gaza to Egypt
GAZA (Reuters) - A group of 28 premature babies from Gaza were evacuated on Monday from a hospital inside the bombarded Palestinian enclave into Egypt to receive treatment, according to Egyptian television footage and a Palestinian hospital doctor.
Medical staff on the Egyptian side of the Rafah border crossing were seen carefully picking up babies from inside ambulances and placing them in mobile incubators, which were then wheeled across a car park towards other ambulances.
The babies, from a total of 31 who were moved on Sunday from the besieged Al Shifa Hospital in Gaza City to a maternity hospital in southern Gaza as a first step towards evacuation, wore only nappies and tiny green hats.
"The babies arrived to me from Al Shifa Hospital. They were in a catastrophic condition when they got here," said Dr. Mohammad Salama, head of the neonatal unit at the Al-Helal Al-Emairati Hospital in Rafah, southern Gaza.
"Some were suffering from malnutrition, others from dehydration and some from low temperatures. We have worked in order to make their conditions stable during the past 24 hours," he told Reuters by telephone.
"As soon as we got the call to prepare the babies, we got them prepared and ready to travel."
Salama said some of the babies were with their mothers, while others who did not have relatives with them were accompanied by medical staff. In some cases where their mothers were dead or missing, other relatives signed consent forms for the transfer, he said.
The Egyptian government footage from the Rafah crossing showed incubators being lifted into ambulances and one doctor connecting an oximeter to a baby's foot.
EIGHT BABIES DIED
The newborn babies have captured global attention since images emerged eight days ago of them lying side by side on beds at Al Shifa Hospital after their incubators were switched off for lack of power amid Israel's military assault on Gaza City.
When doctors at Al Shifa raised the alarm about them, there were 39 babies. Since then, eight have died.
The doctors had said the conditions at Al Shifa were highly dangerous for them, with no infection control, insufficient sterilisation equipment, a lack of clean water and medicines, and no possibility of tailoring the temperature and humidity levels to their individual needs.
Israeli military operations have been taking place at Al Shifa and medical care can no longer be provided there due to a lack of power, water, medicines and other basics, according to the World Health Organization.
The war was triggered by fighters from Hamas who rampaged through southern Israel on Oct. 7, killing 1,200 Israelis, including children and babies, and abducting 240, according to Israeli figures.
Israel has responded with a relentless bombardment of Gaza and a ground invasion. At least 13,000 Palestinians, including 5,500 children, have been killed, according to health officials in the Hamas-controlled enclave. Three quarters of Gazans have been made homeless by the war, according to U.N. figures.
Limited evacuations have been taking place since Nov. 1 through the Rafah crossing, the only exit and entry point for Gaza that does not border Israel, though departures have been suspended several times due to bombardments on the Gaza side.