Inflation, budget risks await Polish vote winner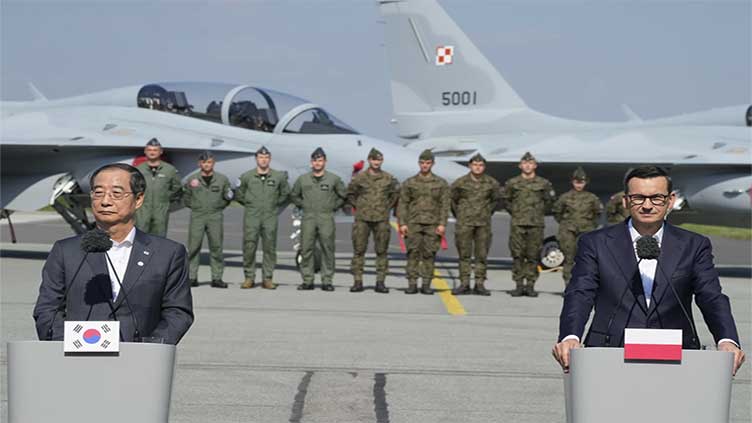 World
Inflation, budget risks await Polish vote winner
WARSAW (Reuters) - Less than three weeks ahead of Poland's hotly contested general election, Warsaw pensioner Jadwiga Buczek is feeling better about a cost of living crisis which, for the past two years, has hit central Europeans harder than most.
"Let me tell you, there was a time when I couldn't even afford to buy salmon, for example. And now I'll go and buy myself a piece of salmon and have it at least once a week," Buczek told Reuters of a favourite treat.
"I think that the government is really doing a lot, and those who think that this is some kind of mistake or that they are doing something wrong, that is absolutely not true," said Buczek, a supporter of the ruling Law and Justice (PiS) party.
Buczek has benefited from the fact that PiS has raised her pension as part of hefty welfare spending moves which, opinion surveys show, are easing Poles' concerns over high inflation.
Now, PiS and its rivals are vying to outdo each other with promises of even more generous spending - meaning that whoever wins the Oct. 15 election must pick up the tab for policies that risk fanning inflation and straining the state budget.
Poland's economy, the largest of the ex-communist countries which joined the European Union, has since the COVID-19 pandemic seen a two-year surge in foreign investment as firms take advantage of its skilled but still relatively cheap workforce.
That has helped the socially conservative PiS fund the expansion of a pro-family policy of child benefits, hikes to minimum wages and payments to pensioners - in turn prompting rivals to come up with even more expansive election promises.
While such welfare supports are modest compared to those in western Europe, the concern is that they could hinder efforts to lower inflation which reached a peak of 18.4% in February and is still stuck around 10% - double that of the euro area.
"The new fiscal measures and a sizeable increase of the minimum wage in 2024 are expected to increase core inflation pressures," said the European Commission this month as it forecast 2024 inflation at 6.1%, double the central bank target of 2.5%.
For now, the main rating agencies are comfortable with a stable outlook on their A-tier credit ratings for Poland due to its strong fundamentals and solid medium-term growth prospects, even with high inflation stifling the economy this year.
However, some have concerns about monetary policy too.
The National Bank of Poland's rush to cut its main interest rate by a much-larger-than-expected 75 basis points ahead of the election raised worries the bank was more focused on economic growth than inflationary pressures.
"With oil prices above $90 per barrel, and depreciation of the Polish zloty after the interest rate cut, that all raises the risk that inflation rates might still go down, but probably not at the speed that was anticipated before," said Steffen Dyck, senior vice president, Sovereign Risk Group at Moody's.
NBP Governor Adam Glapinski defended the move, saying that a retreat in inflation allowed for the cut and those surprised by the move - which included all the economists polled by Reuters before the decision - were "simply wrong."
EU CASH
Regardless of who wins on Oct. 15, credit rating agencies believe that pledges of higher social outlays will be hard to reverse, raising deeper questions over public finances.
Polish state spending is set to rise to more than 46% of gross domestic product this year, not as high as countries with larger welfare but still its second-highest level this century based on International Monetary Fund data.
"The reality is that the fundamental expenditure versus revenue trends are pointing to higher deficits over the medium term," Fitch Ratings' Director Federico Barriga Salazar said.
The Polish minimum wage, already the highest in central Europe, will rise by nearly a fifth next year. With many houseowners on variable loan rates, Warsaw recently extended a scheme for mortgage repayment holidays into next year.
In another gift to households, first-home buyers can get mortgages at a fixed 2% interest rate for 10 years, one of the best mortgage deals available in all of Europe.
"The question is who will win the elections and which election promises will be fulfilled," said Andrzej Kuzniak, an IT company manager and 57-year-old father of three who supports the main opposition Civic Coalition.
"If we have social spending, there needs to be revenues, right?" he said.
Such concerns feed into a final risk around the election: if it is inconclusive, as polls suggest, it will further delay the delivery of some 110 billion-euros ($116.84 billion) worth of EU funding held up in a dispute with Brussels over rule of law concerns.
"Ultimately, this could mean that the government has to spend more on its own, which would mean higher deficits and a rising debt burden, which would be over the medium term credit negative for the credit profile," Moody's Dyck said.