South Korea's Yoon to visit Japan next week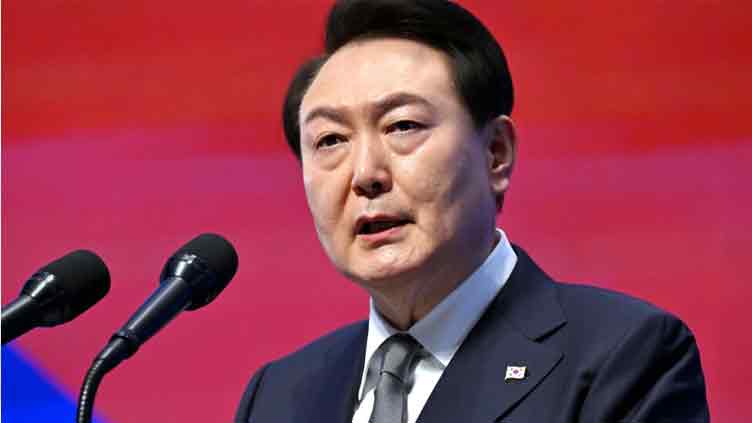 World
Visit is aimed at easing diplomatic strains over Japan's wartime atrocities
(AFP) – South Korean President Yoon Suk Yeol will visit Japan next week, his office said Thursday, as the two neighbours try to ease their diplomatic strains over Japan's wartime atrocities during its 35-year colonial rule.
The visit comes after Seoul announced plans Monday to compensate Korean victims of Japan's wartime forced labour without direct involvement of Tokyo, which drew strong protests from victims' groups.
Yoon will visit Japan from March 16 to 17 for a summit with Japanese Prime Minister Fumio Kishida, the presidential office said, adding that the trip came at Tokyo's invitation.
"This visit will resume bilateral summit exchanges between South Korea and Japan, which had been suspended for 12 years, and will mark an important milestone in the improvement and development of South Korea-Japan relations," it added.
It expressed hopes that Yoon's visit will serve as an opportunity for the two countries to "overcome the unfortunate history of the past" and boost cooperation.
The Korean peninsula was under Japan's brutal colonial rule from 1910-45, during which around 780,000 Koreans were conscripted into forced labour, according to data from Seoul.
Other atrocities included forcibly recruiting tens of thousands of Korean women as wartime sex slaves, euphemistically known as "comfort women".
The three-decade-plus period also saw an attempt to erase Korean culture, with Koreans banned from using their own language in schools and forced to adopt Japanese names.
Japan says colonial-era disputes were settled in 1965, when diplomatic ties were normalised and Tokyo gave Seoul some $800 million in loans and economic aid.
Seoul's new compensation plan has incited outrage from South Koreans, including those who were forced to work for Japanese companies during World War II, but it drew quick praise from Tokyo and Washington.
Seoul and Tokyo -- both US allies -- have ramped up security cooperation in the face of growing threats from nuclear-armed North Korea.
Japan's top government spokesman Hirokazu Matsuno said the two countries have held close exchanges and communication since Yoon took office, describing South Korea as "an important neighbour".
"With this visit, we wish to further enhance Japan-South Korea relations, based on the friendship and cooperation that has been ongoing since the normalisation of ties," he told reporters.