In State of the Union speech, optimistic Biden pledges to work with Republicans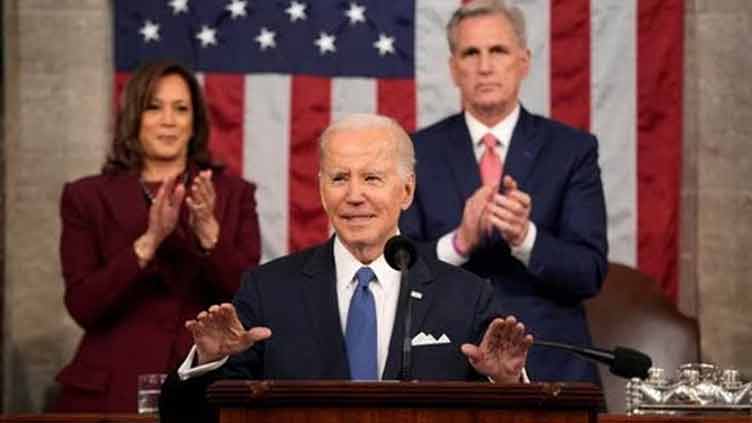 World
In State of the Union speech, optimistic Biden pledges to work with Republicans
WASHINGTON (Reuters) - President Joe Biden called US democracy "unbowed" and pledged to work with the opposition party on Tuesday in a State of the Union speech that served as an olive branch to skeptical Republicans and a blueprint for his 2024 re-election bid.
In his first address to a joint session of Congress since Republicans took control of the House of Representatives in January, Biden cited progress in a post-pandemic economy and stressed that a bitterly divided Congress could overcome its differences.
"We're often told that Democrats and Republicans can't work together. But over the past two years, we proved the cynics and the naysayers wrong," said Biden, a Democrat. "To my Republican friends, if we could work together in the last Congress, there is no reason we can't work together and find consensus on important things in this Congress as well."
Speaker Kevin McCarthy, a Republican, sat behind Biden for the address for the first time.
"Mr. Speaker, I don't want to ruin your reputation, but I look forward to working with you," Biden said, drawing laughs.
One test of that challenge will be the White House push to raise the $31.4 trillion debt ceiling, which must be lifted in the coming months to avoid a default. The White House has said Biden will not negotiate over that necessity; Republicans want spending cuts in exchange for their support.
Seeking to project optimism ahead of a 2024 presidential campaign, Biden said the economy was benefiting from 12 million new jobs, Covid no longer controls American lives, and U.S. democracy remains intact despite the facing its biggest threat since the Civil War.
"Today, though bruised, our democracy remains unbowed and unbroken," he said.
Since his inauguration in 2021, shortly after the Jan. 6 attack on the U.S. Capitol, Biden has said he wants to unify the country. And he stuck to that theme, highlighting a massive infrastructure bill that many Republican lawmakers had opposed.
"I sincerely thank my Republican friends who voted for the law," Biden said.
"And to my Republican friends who voted against it but still ask to fund projects in their districts, don't worry. I promised to be the president for all Americans. We'll fund your projects. And I'll see you at the ground-breaking," he added, drawing laughter and applause.
Despite his efforts, Biden remains unpopular.
His public approval rating edged one percentage point higher to 41% in a Reuters/Ipsos opinion poll that closed on Sunday. That is close to the lowest level of his presidency, with 65% of Americans saying they believe the country is on the wrong track, compared to 58% a year earlier.
Similarly, in the autumn of 2020, when Donald Trump was president, 65% of registered voters believed the country was on the wrong track, according to Reuters/Ipsos polling.
Arkansas Governor Sarah Huckabee Sanders, who once served as press secretary for Trump, rejected Biden's upbeat vision of the country in her Republican response.
"In the radical left's America, Washington taxes you and lights your hard-earned money on fire. But you get crushed with high gas prices, empty grocery shelves, and our children are taught to hate one another on account of their race," Sanders said in excerpts released ahead of her televised remarks.
Biden aides see the speech, which will draw millions of viewers and perhaps the president's largest television audience of the year, as a milestone ahead of the second presidential campaign he is expected to launch in coming weeks.
Biden turned 80 in November and, if re-elected, would be 82 at the start of a second term, a fact that concerns many Democratic voters, recent polls show.
DIVIDED REPUBLICANS
Biden faced a splintered gathering of Republican lawmakers, eager to put their conservative mark on U.S. policy following four years of Democratic control of the House.
But before Biden's arrival, McCarthy and Vice President Kamala Harris smiled and chatted from the dais.
McCarthy said earlier on Tuesday that he would not rip up Biden's speech, referencing the actions of former Speaker Nancy Pelosi after Trump's 2020 State of the Union address.
"I respect the other side," McCarthy said in a video. "I can disagree on policy. But I want to make sure this country is stronger, economically sound, energy independent, secure and accountable." He said he urged Biden not to use the phrase "extreme MAGA Republicans" in his speech, a reference to Trump's "Make America Great Again" slogan.
Some House Republican lawmakers have questioned Biden's victory in the 2020 presidential race against Trump, vowing to investigate his Cabinet and family. But with a razor-thin majority and intraparty divisions, Republicans had a difficult time electing a speaker and are expected to continue to struggle to unite their far-right and more moderate members.
ECONOMIC PROGRESS
Biden hailed the resilience and strength of the US economy, with unemployment having dropped to a nearly 54-year low in January.
In a foreshadowing of themes he may use in a presidential campaign, Biden was expected to hammer corporations for profiteering from the pandemic, and run through a wish list of economic proposals, the White House said, although many are unlikely to be passed by Congress. They include a minimum tax for billionaires, and a quadrupling of the tax on corporate stock buybacks.
On foreign policy, Biden was expected to highlight the US-led response to Russia's year-long invasion of Ukraine, the strength of the NATO alliance and tensions between the United States and China, spotlighted by a Chinese spy balloon that the US military shot down this week.
He will ask Congress to work together to toughen regulation of the technology sector, including what the administration sees as a need for stronger privacy protections, one aide said.
He was expected also to lash out a "Big Oil" and "Big Pharma" for profit-taking, airlines and credit card companies for charging junk fees, and companies that pay low tax rates.
"Big corporations aren't just taking advantage of the tax code. They're taking advantage of you, the American consumer," he said.