US kills prominent Islamic State figure in Somalia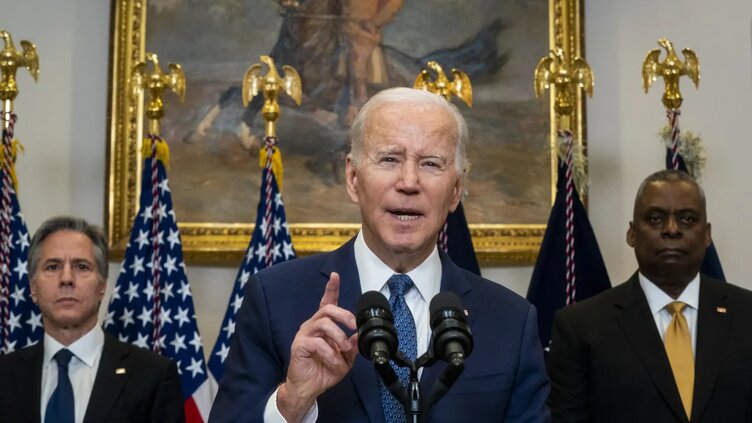 World
Military carried out operation in northern Somalia on 25th, killed ISIS terrorists including Sudani
WASHINGTON (Web Desk) - President Joe Biden authorised a US military operation in Somalia that resulted in the death of Bilal al-Sudani, a significant regional figurehead for the Islamic State, according to US authorities.
According to US sources, Sudani was killed in a shootout when US forces entered a network of rocky caves in northern Somalia in the hopes of capturing him.
There were no American casualties, according to the authorities, but around 10 of Sudani s IS allies at the site were slain.
Defence Secretary Lloyd Austin released a statement saying, "On the president s instructions, the US military carried out an assault operation in northern Somalia on January 25 that resulted in the killing of a number of ISIS terrorists, including Bilal al-Sudani.
Al-Sudani was in charge of supporting the expansion of ISIS in Africa and providing money for the organization s activities across the world, including those in Afghanistan, according to Austin.
He provided and handled financing for IS branches not only in Africa but also for Islamic-State Khorasan, the branch that controls Afghanistan, a US official claimed under the condition of anonymity. He did this from his mountain stronghold in northern Somalia.
Sudani was active in recruiting and training militants for the radical al-Shabaab movement in Somalia ten years ago, before he joined the Islamic State.
According to the official, "Sudani had a critical operational and financial role and specialised talents, making him an essential target for US counterterrorism operations."
The US soldiers had been practising at a location created to mimic the terrain where Sudani was hiding throughout the months-long preparation for the operation.
After speaking with senior defence, intelligence, and security officials earlier this week, Biden authorised the strike, the individual claimed.
Another administration source stated that "an intentional capture operation was eventually found to be the best choice to maximise the intelligence value of the operation and boost its accuracy in difficult terrain."
But the official said that "the opposing forces retaliation to the operation resulted in his death."
According to the official, the only injury sustained by an American during the operation was caused by a US military service dog biting one of the service members.