Last Updated On 09 December,2019 10:37 am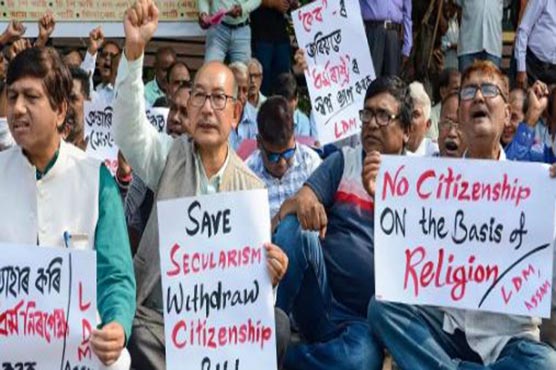 India to table controversial citizenship bill in Lok Sabha amid protests
MUMBAI (Dunya News) – Amid the ongoing protests by minorities including Muslims, extremist Bharatiya Janata Party-led Indian government will table the controversial bill in the lower house of the parliament (Lok Sabha) today (Monday).
The bill would grant nationality to Hindus, Buddhists, Sikhs, Christians, Jains and Parsis fleeing persecution in Muslim-majority Bangladesh, Pakistan and Afghanistan even without any documentation which will violate the spirit of the country's secular constitution.

Indian Prime Minister Narendra Modi's party said that Muslims are not included because they are able to take refuge in Islamic nations across the globe.

Congress party's Shashi Tharoor has decided to oppose the bill, calling it as "fundamentally unconstitutional" piece of legislation.

"It is simple. Citizenship CANNOT be determined by or linked to religion," tweeted Sitaram Yechury, a senior politician from Communist Party of India.

On the other hand, the approval of the bill from cabinet has sparked nationwide protests. The participants, while holding banners and placards, chanted slogans against the government and demanded to withdraw the bill.

It is to be mentioned here that Modi government had also tried to get similar legislation passed in its first term but failed to garner enough support in the upper house, and it is unclear whether it would succeed there this time.

On August 5, Modi's administration had rescinded the partial autonomy of Muslim-majority occupied Kashmir and imposed curfew in the valley.