Last Updated On 20 August,2018 03:13 pm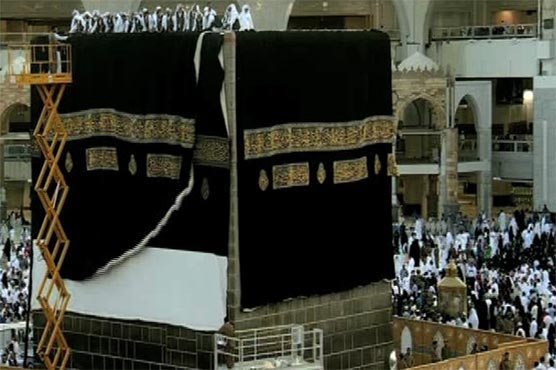 The new Ghilaf has been prepared at a cost of two hundred thousand Riyal.
MAKKAH (Dunya News/AFP) - The annual ritual to change Ghilaf-e-Kaaba was held at Masjid al-Haram in Saudi Arabia where millions of Muslims have gathered to perform Hajj.

The new Ghilaf has been prepared at a cost of two hundred thousand Riyal. Six hundred seventy kilogram pure silk, 120 kilogram gold and one hundred kilogram silver have been used in it.

The covering cloth of the Kaaba, known as Kiswa, is changed on 9th Zilhaj every year on the day of Arafat. Imam Masjid ul Haram Dr. Abd ur Rahman Assudais and Governor Makka Khalid Faisal participated in the ritual.

On the other hand, Muslim pilgrims began ascending Mount Arafat for the climax of the annual hajj which brings together more than two million people from around the world.

A sea of worshippers scaled the rocky hill southeast of the holy city of Mecca for a day of prayers and reflection where Muslims believe Prophet Mohammed delivered his final sermon.

Some of the pilgrims -- men in white seamless garments and women in loose dresses -- pushed elderly relatives in wheelchairs on the second day of the hajj, one of the world's largest annual gatherings.

A hot wind blew across the hill, also known as Jabal al-Rahma (Mount of Mercy), and the surrounding plain after a downpour late Sunday. Many faithful could be seen sipping from bottles of water.

After sunset, the pilgrims will leave for nearby Muzdalifah where they will gather pebbles to perform the symbolic "stoning of the devil".

The ritual begins in earnest on Tuesday as Muslims observe the first day of Eid al-Azha, or Feast of Sacrifice, which marks the end of the hajj.

Muslims traditionally slaughter sheep for the three-day Eid al-Azha, a tribute to the prophet Ibraham's sacrifice of a lamb after God spared Hazrat Ismael, his son.