Last Updated On 31 March,2018 09:58 pm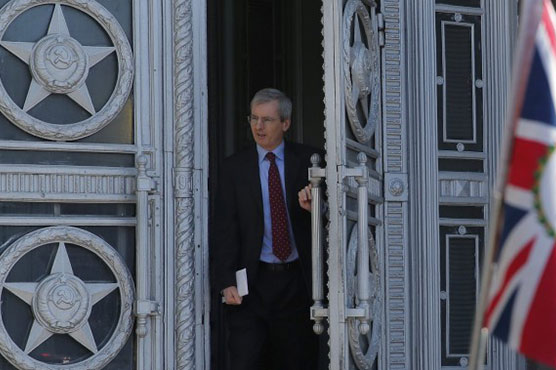 Russia demanded Saturday that Britain further slash its diplomatic presence.
MOSCOW (AFP) - Russia demanded Saturday that Britain further slash its diplomatic presence as a crisis in ties between Moscow and the West escalated over a nerve agent attack on a former spy.
The call came after 23 British diplomats were kicked out of Russia earlier this month and is seen as Moscow s retaliation to the mass coordinated expulsion of Russian diplomatic staff by the UK s allies.
It is the biggest wave of tit-for-tat expulsions between Russia and the West in recent memory and has seen relations plunge to new post-Cold War lows.
The crisis was triggered by the March 4 poisoning of Russian former double agent Sergei Skripal and his daughter Yulia in an English city which Britain has blamed on Moscow, saying a Soviet-designed military grade nerve agent was used.
On Friday, Moscow summoned British ambassador Laurie Bristow, giving London a month to cut the number of diplomatic staff in Russia to the same number Russia has in Britain.
"Russia suggested parity. The British side has more than 50 more people," foreign ministry spokeswoman Maria Zakharova told AFP.
---
'Provocative' action
---
Bristow was summoned along with the heads of missions from 23 other countries who were told that some of their diplomats had to leave.
He was handed a protest note over the "provocativeand unfounded actions of the British side which instigated the unwarranted expulsion of Russian diplomats from a variety of states," the Russian foreign ministry said.
In London, a Foreign Office spokeswoman said on Saturday: "We are considering the implication of the measures announced yesterday by the Russian foreign ministry."
The Foreign Office had said it regretted the most recent developments but insisted Russia was the culprit.
"This doesn t change the facts of the matter: the attempted assassination of two people on British soil, for which there is no alternative conclusion other than that the Russian state was culpable," it said.
Meanwhile, Britain said it was considering Moscow s request for consular access to Skripal s daughter Yulia, who was visiting from Russia when the attack took place.
The 33-year-old came out of critical care on Thursday and was "improving rapidly", according to Salisbury District Hospital.
She is now in a stable condition -- with the BBC reporting that she was conscious and talking.
"We are considering requests for consular access in line with our obligations under international and domestic law, including the rights and wishes of Yulia Skripal," a Foreign Office spokeswoman told AFP.
Sergei Skripal, 66, who sold secrets to Britain and moved there in a 2010 spy swap, remains in a critical but stable condition.
---
Routine checks
---
Britain also acknowledged Saturday that border officials had searched an incoming Aeroflot flight from Moscow in what Russia blasted as a an act of "blatant provocation".
Britain said it conducts routine checks on aircraft to protect the UK from organised crime and people attempting to bring harmful substances into the country.
The crisis has seen more than 150 Russian diplomats ordered out of the US, EU member states, NATO countries and other nations.
On Friday, Russia expelled diplomats from 23 countries -- most of them EU member states -- in retaliation against the West.
France, Germany, Canada and Poland each said that Russia was expelling four of their diplomats. Other countries including Australia, Ukraine, the Netherlands, Sweden, the Czech Republic, Finland, Lithuania and Norway were also told to pull their envoys.
---
Russians set to leave US
---
In the United States, 171 people -- 60 Russians diplomats who Washington alleges are "spies" and their families -- were set to leave on two planes provided by the Russian government.
US media showed footage of a Russian government plane on the tarmac at Washington s Dulles airport, apparently getting ready to take the expelled Russians home.
Britain has said it is "highly likely" that Russia was responsible for the Skripal attack using the Novichok nerve agent, but Russia has angrily denied any involvement.
Britain has suspended high-level diplomatic contact with Moscow, expelled 23 diplomats, and said it would not be sending any members of its royal family to the 2018 football World Cup hosted by Russia.
Russia responded by expelling 23 British diplomats, closing a British consulate in Saint Petersburg and halting the activities of the British Council educational and cultural organisation.