Last Updated On 19 January,2018 08:16 am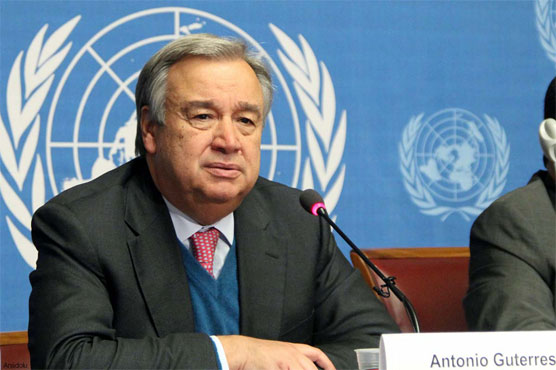 UN Secretary-General urged the Security Council to revive Syria gas attacks probe.
UNITED NATIONS (AFP) - UN Secretary-General Antonio Guterres on Thursday urged the Security Council to revive efforts to punish those responsible for chemical weapons use in Syria after Russia killed off a UN probe of the gas attacks.
Guterres said the use of chemical weapons in Syria s nearly seven-year war "seriously challenges the global taboo against these weapons of mass destruction."
"If the use of chemical weapons in Syria is once again determined, the international community needs to find an appropriate way to identify those responsible and hold them to account," he told a council meeting on non-proliferation.
Russia used its veto power twice in November to block the renewal of a UN investigative panel tasked with identifying those responsible for chemical attacks in Syria.
A month earlier, the panel had released a damning report that found the Syrian air force had dropped sarin on the rebel-held village of Khan Sheikhun in April, killing scores of people.
The Joint Investigative Mechanism (JIM), set up by Russia and the United States in 2015, shut down in November but Western powers have kept up efforts to restore some sort of mechanism for accountability.
US Ambassador Nikki Haley this month sent a letter to Guterres that contained a US rebuttal of Russia s objections to the gas attacks investigations in Syria.
The letter was seen as laying the ground for a renewed US push at the council to restore the chemical weapons investigation with a possible new resolution.
Russia s arguments "are misleading, unprofessional, inconsistent, and at times, completely false," said the US document, seen by AFP.
Haley told the council that Russia stood in the way of international action to hold its Syrian ally accountable, and said the top UN body "must respond to this outrageous violation of international law."
France will host an international meeting in Paris on Tuesday on boosting cooperation against "unacceptable impunity in the use of chemical weapons," French Ambassador Francois Delattre said.
The Organization for the Prohibition of Chemical Weapons (OPCW) continues to present to the council reports from its fact-finding missions in Syria.
A recent OPCW report concluded that sarin was used in another incident on March 30 in the village of Latamneh and is currently before the council.