Last Updated On 05 January,2018 06:33 pm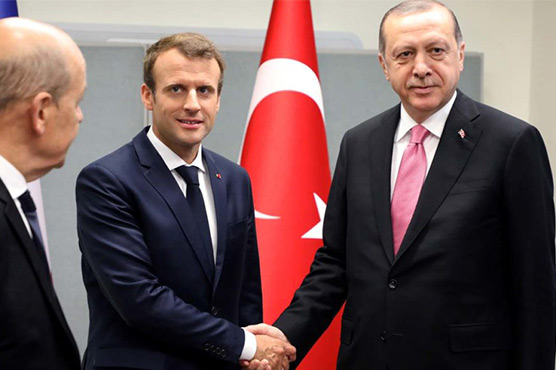 Macron has said he will bring up the plight of jailed reporters with Erdogan.
PARIS (AFP) - Turkish President Recep Tayyip Erdogan will attempt to reset relations with Europe at talks with France s Emmanuel Macron in Paris on Friday that are likely to be overshadowed by human rights concerns.
The meeting at the Elysee Palace is likely to take in Syria, terrorism and trade, but Macron is also expected to emphasise Europe s alarm over Turkey s sweeping post-coup purges.
It is Erdogan s first visit to France since the botched putsch against him in 2016 and one of only a handful to Europe since the attempted army takeover as well as a fierce row with Germany, which Erdogan accused of "Nazi practices".
Macron has drawn criticism over his invitation to the Turkish strongman, who has presided over the arrest of tens of thousands of officials, academics, journalists and activists at home.
"Erdogan is not welcome in Paris," the leader of the hard-left France Unbowed party, Jean-Luc Melenchon, tweeted ahead of the visit, expressing solidarity with jailed journalists and pro-Kurdish activists and politicians.
The Socialist mayor of Paris, Anne Hidalgo, trade unions and the Communist Party also voiced concern about human rights in Turkey.
Over 140,000 people have been sacked or suspended and over 55,000 officials, security force members, judges, academics, journalists and activists have been arrested since the coup.
The Reporters Without Borders group protested outside the Turkish embassy in Paris, holding aloft stencilled portraits of imprisoned journalists.
"Turkish prisons are today filled with journalists who have only done their job of investigating and trying to show the reality of what is happening," said RWB chief Christophe Deloire.
Before boarding his plane in Istanbul, Erdogan told reporters that cooperation between Turkey and France was "of vital importance for regional and international peace".
---
Nazi taunt
---
Ankara also wants to improve ties with Germany which hit a low point in 2017, with Erdogan accusing Chancellor Angela Merkel of "Nazi practices" for refusing to let his government campaign in Germany.
Merkel in turn poured cold water on the prospect of Turkey s long-running EU membership bid ever reaching fruition.
In a guest column for the German newspaper group Funke on Friday, Turkish Foreign Minister Mevlut Cavusoglu -- who is heading to Berlin at the weekend for talks -- called for a "new start" in relations.
Global risk consultancy Verisk Maplecroft said in a note it did not expect radical change in 2018, saying Berlin and Brussels were "extremely unlikely" to heed Turkey s call for the extradition of alleged backers of the coup-plotters.
The French presidency has taken a nuanced line on Turkey, with Macron s aides insisting this week on the need to "maintain dialogue" without "covering up differences of views".
Macron has said he will bring up the plight of jailed reporters with Erdogan.
The pair previously met at a NATO summit in Brussels and at the UN General Assembly in New York in September, and held telephone talks leading to the release of two French journalists who were held in Turkey.
Amnesty International, whose Turkey head Taner Kilic has been detained accused of links to the group blamed for the 2016 coup, said Macron should "strongly remind (Erdogan) that human rights defenders are not terrorists".
---
Essential partner
---
Ankara s post-coup purges have dealt the biggest blow yet to its 50-year ambition of joining the European Union.
Merkel, who in 2015 brokered a deal with Erdogan to prevent migrants boarding boats for Europe from Turkey s shores, has been particularly condemning of the crackdown.
But Macron warned against a breakdown in communications with an "essential partner" and fellow NATO member that plays a pivotal role in Syria.
Erdogan has backed attempts by Russia and Iran to mediate an end to the conflict despite backing rebels fighting the regime, which Moscow and Tehran support.
Hosting Erdogan forces Macron to again walk a diplomatic tightrope after visits from US President Donald Trump and Russia s Vladimir Putin.
The 40-year-old French leader, a relative newcomer to politics and diplomacy, is bent on boosting France s standing on the world stage.