Last Updated On 24 September,2017 11:58 pm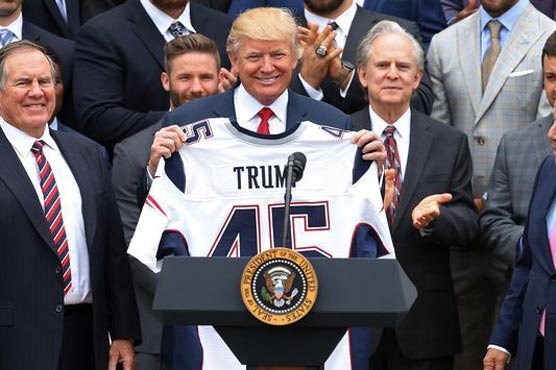 Khan later issued a statement decrying Trump's recent comments as "divisive and contentious."
LOS ANGELES: (AFP) - A wave of protests swept National Football League games on Sunday after US President Donald Trump called for players demonstrating against racial inequality during the national anthem to be fired.
Dozens of players at several games across the league chose to kneel during the playing of "The Star-Spangled Banner," in the largest such demonstration since the protests first began in 2016.
The first mass protest took place at the NFL s London game between the Jacksonville Jaguars and Baltimore Ravens at Wembley Stadium.
A large number of players from both teams knelt during the playing of the anthem while others stood with their arms interlocked.
Among those linking arms with the players was Jacksonville owner Shad Khan, who donated $1 million to Trump s election campaign in 2016.
Khan later issued a statement decrying Trump s recent comments as "divisive and contentious."
"That s why it was important for us, and personally for me, to show the world that even if we may differ at times, we can and should be united in the effort to become better as people and a nation," Khan said.
The London protests were emulated across the United States as matches kicked off.
In Foxborough, around 15 members of the Super Bowl champion New England Patriots kneeled during the national anthem.
Star quarterback Tom Brady linked arms with his team-mates. Patriots owner Robert Kraft, a friend of Trump who also donated to his campaign, issued a statement saying he was "deeply disappointed" by Trump s remarks on Friday.
In Chicago, the Pittsburgh Steelers chose to remain in their locker room during the anthem ahead of their clash with the Bears.
Steelers coach Mike Tomlin, who is black, said the decision was not intended to be disrespectful but rather calculated to "remove ourselves from the circumstance."
"These are very divisive times for our country," Tomlin told CBS television. "For us as a football team, it s about remaining solid."
A lone Steelers player -- former Army Ranger Alejandro Villanueva -- stood just outside the player s tunnel to observe the anthem.
In Detroit meanwhile, the singer of the national anthem Rico LaVelle dramatically dropped to his knee at the end of his rendition.
At least eight Detroit Lions players were seen kneeling during the anthem while others linked arms ahead of their game with the Atlanta Falcons.
The Falcons players including team owner Arthur Blank also joined arms.
More than 20 Cleveland Browns players kneeled during the anthem for their game against the Colts in Indianapolis.