Last Updated On 30 March,2017 08:12 am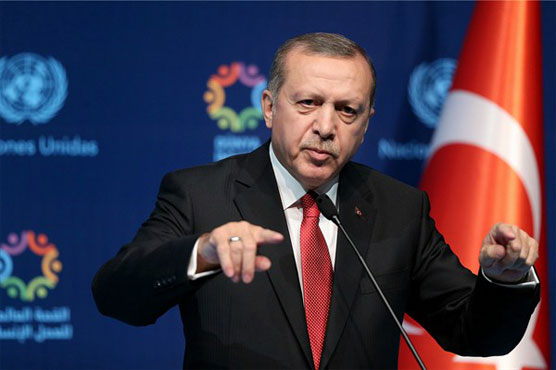 Turkey on Wednesday announced its military campaign inside northern Syria was over.
ISTANBUL (AFP) - Turkey on Wednesday announced its military campaign inside northern Syria was over, without specifying whether it will pull its troops out from the neighbouring country.
Turkey s top advisory national security council chaired by President Recep Tayyip Erdogan said the half-year long offensive in Syria has been "concluded successfully," in a statement.
Prime Minister Binali Yildirim also said the operation has been completed but did not rule out new military campaigns inside Syria under a different name.
"Euphrates Shield is over. A potential operation from now if needed will take another name," Yildirim told the private NTV television.
It was not immediately clear if that signified a plan to withdraw Turkish troops, or if operations would continue elsewhere under another name.
In August, Turkey launched an ambitious military campaign inside Syria, dubbed Euphrates Shield, targeting Islamic State (IS) jihadists and Syrian Kurdish militia fighters that Ankara says are "terrorists".
"From now on if there is anything that threatens our security, either Daesh or any other (group) and if we take another action, that will be a new operation," the prime minister said, using an alternative name for IS group.
"Operation Euphrates Shield aimed at ensuring our country s border security and thwarting Daesh terror group s threat and attacks targeting our country ... has been concluded successfully," the National Security Council (MGK) said in a statement after a meeting in Ankara at Erdogan s presidential palace.
Since the onset of the unprecedented operation, Turkey-backed Syrian rebels have captured from jihadists several towns including Jarabulus, Al-Rai, Dabiq and finally Al-Bab, where the Turkish army sustained heavy casualties.
The strategic town of Al-Bab, just 25 kilometres (15 miles) south of the Turkish border, had been the jihadists last stronghold in the northern Syrian province of Aleppo.
Erdogan has repeatedly said Turkey wants to work with its allies to capture IS bastion of Raqa in Syria, but without the involvement of Syrian Kurdish militia.
The latest announcement comes on the eve of a key visit by US Secretary of State Rex Tillerson s visit who is due on Thursday to meet with Erdogan and the Turkish foreign minister in Ankara.
NATO allies US and Turkey disagree over the Syrian Kurdish People s Protection Units (YPG) militia which is seen by Ankara as a "terror group" linked to Kurdish separatists waging an insurgency inside Turkey since 1984.
Washington however sees the YPG as an effective force in the fight against IS jihadists.
Yildirim on Wednesday said it was "unethical" that the US was working with Syrian Kurdish fighters.
"It doesn t suit the United States to work with a terror organisation," he said.
Turkey has recently worked closer with Russia, which supports Syrian President Bashar al-Assad, in a bid to end the six-year war in Syria
Ankara however wants Russia to close the Moscow office opened last month of the Kurdish Democratic Union Party (PYD), whose armed wing is the YPG.