Last Updated On 29 March,2017 12:37 pm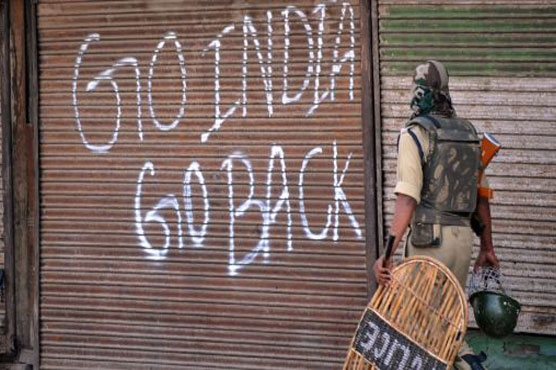 Call for the shutdown has been given by the joint resistance leadership.
SRINAGAR (Web Desk) - Complete shutdown is being observed in occupied Kashmir on Wednesday against the brutal killing of four youth by Indian troops in Chadoora area of Budgam district.
The troops had shot dead three youth Zahid Rashid, Saqib Ahmad and Ashfaq Ahmad on Tuesday after opening fire on demonstrators who had gathered at Chadoora to rescue some youth besieged by the troops.
Over 30 people had sustained injuries in the troops' firing on the protesters. Another youth was killed when Indian forces' personnel blasted a house in the area.
Also Read: Pakistan condemns killing of Kashmiris by Indian forces
Call for the shutdown has been given by the joint resistance leadership comprising Syed Ali Gilani, Mirwaiz Umar Farooq and Muhammad Yasin Malik. All shops, business establishments, schools, petrol pumps and offices are closed while traffic is off the road. The leadership has also called for valley-wide protest demonstrations on Friday.
Meanwhile, the puppet authorities have imposed curfew-like restrictions in old city of Srinagar to stop people from staging anti-India demonstrations over the killings. The authorities also continue to put Hurriyet leaders including Syed Ali Gilani, Mirwaiz Umar Farooq, Muhammad Yasin Malik, Shabbir Ahmed Shah, Muhammad Ashraf Sehrai, Aasiya Andrabi, Nayeem Ahmed Khan, Mukhtar Ahmed Waza, Zafar Akbar Butt, Ayaz Muhammad Akbar, Raja Merajuddin Kalwal and Umar Aadil Dar under house arrest or behind the bars to stop them from leading the demonstrations.
On the other hand, the Kashmir University (KU), Islamic University of Science and Technology (IUST) and Central University of Kashmir (CUK) have postponed all the examinations scheduled for today in view of the strike.