Last Updated On 07 November,2016 01:20 pm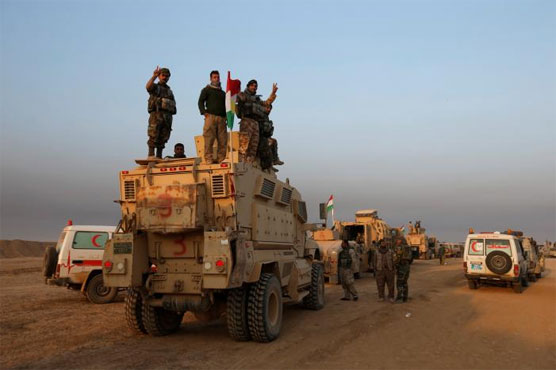 Twin offensives on Raqqa and Mosul could bring to an end the self-styled caliphate.
BASHIQA, IRAQ (Reuters) - Iraqi Kurdish peshmerga forces attacked an Islamic State-held town northeast of Mosul on Monday, trying to clear a pocket of militants outside the city while Iraqi troops wage a fierce urban war with the militants in its eastern neighborhoods.
The first waves of a 2,000-strong peshmerga force entered Bashiqa, some in armored vehicles or Humvees and others on foot, after artillery pounded the town at the foot of a mountain about 15 km (10 miles) across the Nineveh plains from Mosul.
"Our aim is to take control and clear out all the Daesh (Islamic State) militants," Lieutenant-Colonel Safeen Rasoul told Reuters. "Our estimates are there are about 100 still left and 10 suicide cars."
Islamic State fighters have sought to slow the offensive on their Mosul stronghold, which entered its fourth week on Monday, with waves of suicide car bomb attacks. Iraqi commanders say there have been 100 on the eastern front and 140 in the south.
A top Kurdish official told Reuters on Sunday the militants had also deployed drones strapped with explosives, long-range artillery shells filled with chlorine gas and mustard gas and trained snipers.
As a peshmerga column moved into Bashiqa on Monday, a loud explosion rocked the convoy, and two large plumes of white smoke could be seen just 50 feet (15 meters) away. A peshmerga officer said two suicide car bombs had tried to hit the advancing force.
In eastern districts of Mosul, which Iraqi special forces broke into last week, officers say militants melted into the population, ambushing and isolating troops in what the special forces spokesman called the world's "toughest urban warfare".
---
TWIN OFFENSIVES
---
Mosul, the largest Islamic State-controlled city in either Iraq or Syria, has been held by the group since its fighters drove the army out of northern Iraq in June 2014.
The Mosul campaign, the most complex military operation in Iraq in a decade, brings together a force of around 100,000 soldiers, security forces, Shi'ite militias and peshmerga, backed by a U.S.-led coalition, to crush the Sunni militants.
Across the border, U.S.-backed Syrian fighters have launched their own campaign, called Euphrates Anger, to recapture Islamic State's Syrian bastion of Raqqa.
Twin offensives on Raqqa and Mosul could bring to an end the self-styled caliphate declared by Islamic State leader Abu Bakr al-Baghdadi from the pulpit of a Mosul mosque in 2014.
Baghdadi has told his followers there can be no retreat in a "total war" with their enemies. The militants in Mosul have been waging a fierce and brutal defense, although they have lost ground on all fronts outside the city itself.
To the south of Mosul, security forces said they had recaptured and secured Hammam al-Alil from Islamic State fighters, who they said had kept thousands in the town as human shields as well as marching many others alongside retreating militants towards Mosul as cover from air strikes.
The security forces on the southern front have continued their advance, reaching within 4 km (2-1/2 miles) of Mosul's airport, on the southern edge of the city and on the western bank of the Tigris River which runs through its center.
To the north, a military statement said the army's Sixteenth Infantry Division had also recaptured the village of Bawiza and entered another area, Sada, on the city's northern limits, further tightening the circle of forces around Islamic State.
Shi'ite militias known as Popular Mobilisation forces are also fighting to the west of Mosul to seal the routes to the Islamic State-held town of Tal Afar and its territory in neighboring Syria, to prevent any retreat or reinforcement.