Iran's Khamenei blasts Saudi management of holy sites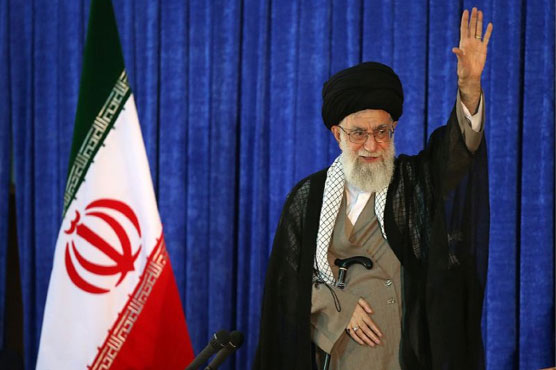 Khamenei was fiercely critical of the Saudi response to a deadly stampede.
TEHRAN (AFP) - With Iranians blocked from this month's hajj pilgrimage, their supreme leader Ayatollah Ali Khamenei issued a furious rebuke to rival Saudi Arabia, saying the Muslim world should challenge its management of Islam's holiest sites.
"Saudi rulers... who have blocked the proud and faithful Iranian pilgrims' path to the Beloved's House, are disgraced and misguided people who think their survival on the throne of oppression is dependent on defending the arrogant powers of the world, on alliances with Zionism and the US," Khamenei said.
He accused Saudi Arabia's ruling family, who are the custodians of Islam's holiest sites in Mecca and Medina, of politicising the annual hajj pilgrimage, due to start at the end of the week, turning themselves into "small and puny Satans who tremble for fear of jeopardising the interests of the Great Satan (the United States)".
For the first time in almost three decades, Iranians have been effectively barred from participating in this year's pilgrimage to Mecca after talks on logistics and security fell apart.
But even by recent standards, with relations between the rival Middle Eastern powers at an all-time low, the language was tough.
"Because of Saudi rulers' oppressive behaviour towards God's guests, the world of Islam must fundamentally reconsider the management of the two holy places and the issue of hajj," Khamenei wrote in a statement on his website.
He reserved some of his harshest words for Riyadh's response to a deadly stampede during last year's hajj that killed some 2,300 foreign pilgrims, including an estimated 464 Iranians.
"Instead of apology and remorse and judicial prosecution of those who were directly at fault in that horrifying event, Saudi rulers -- with utmost shamelessness and insolence -- refused to allow the formation of an international Islamic fact-finding committee," he said.
"The hesitation and failure to rescue the half-dead and injured people... is also obvious and incontrovertible," he added.
"They murdered them."
---
'Blasphemous, faithless'
---
As the two leading powers in the Middle East, Shia Iran and predominantly Sunni Saudi Arabia are at odds over a raft of regional issues, notably the conflicts in Syria and Yemen in which they support opposing sides.
Riyadh-Tehran ties were severed for four years after more than 400 people were killed in Mecca during clashes between Iranian pilgrims staging an anti-US protest and Saudi security forces in 1987.
Iran is particularly opposed to the Saudi monarchy's close relationship with Washington and Israel.
"The world of Islam, including Muslim governments and peoples, must familiarise themselves with the Saudi rulers and correctly understand their blasphemous, faithless, dependent and materialistic nature," Khamenei wrote.
"They have placed pilgrims from the participating countries under unprecedented surveillance with the help of the spy agencies of US and the Zionist regime. They have made the divine sanctuary unsafe for everybody," he charged.
In January, relations were severed again after Iranian demonstrators torched Saudi Arabia's embassy and a consulate following the kingdom's execution of a prominent Shia cleric.
Some 60,000 Iranians took part in last year's hajj, but it was announced in May that they would not be permitted to take part this year after the two countries failed to agree the hajj memorandum of understanding that is signed annually with more than 70 countries.
Two rounds of talks led to agreements in some areas, including to use electronic visas which could be printed out by Iranian pilgrims, as Saudi diplomatic missions remain shut in Iran.
But Riyadh said Tehran had made "unacceptable" demands, including the right to organise demonstrations "that would cause chaos".