Last Updated On 26 March,2016 08:13 am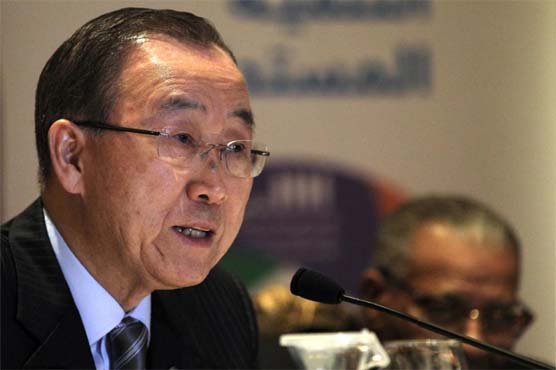 Ban Ki-moon on Friday appealed for an end to war and violence in Syria and the region.
BEIRUT (AFP) - UN chief Ban Ki-moon on Friday appealed for an end to war and violence in Syria and the region, as he wrapped up a two-day visit to Lebanon.

"The United Nations will spare no effort in seeking to put an end to the conflict in Syria and to reach a just, lasting and comprehensive peace in the Middle East," Ban told reporters at a news conference in Beirut.

"This is a critical time for the region. It is time to stop the violence and end injustice, to give people the opportunities they deserve to build a better life," he added.

Syria s five-year conflict has killed more than 270,000 people and forced millions to flee their homes, with neighbouring countries bearing the brunt of the refugee crisis.

Lebanon is home to the highest percentage of refugees per capita in the world.

Nearly 1.2 million Syrians are now living in Lebanon, while more than 450,000 Palestinian refugees are also registered with the UN, though experts believe the number of Palestinians in the tiny country is actually lower.

Ban s remarks came after meetings with Lebanese officials and a visit with World Bank chief Jim Yong Kim and Islamic Development Bank head Ahmad al-Madani to northern Lebanon.

Ban spoke with two Syrian refugee families living in squalid conditions in a poor neighbourhood of the city of Tripoli.

Reconstruction efforts have since been hampered by funding shortfalls.

In Beirut, Ban commended Lebanon for remaining "a vital example to the region of coexistence and pluralism".

He urged a speedy end to the political crisis in the country, whose leaders have failed to elect a new president since May 2014.

"The people of this country need their party leaders to work with the prime minister (Tammam Salam) so that the government can respond to their needs," Ban said.

"Most of all, they need the political parties to elect a president. As long as the vacancy of the presidency persists, national unity and Lebanon s standing will remain fragile and incomplete."