Distraught families await news after China boat sinking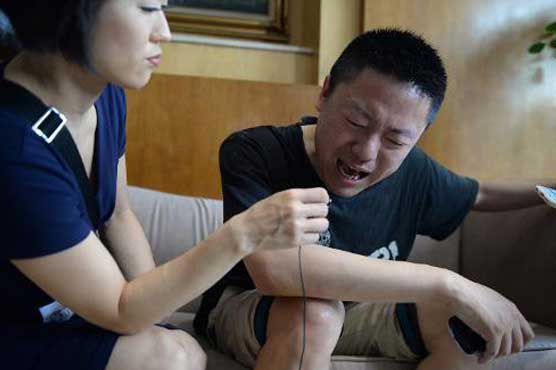 One man expressed his grief with a tearful apology to his parents
SHANGHAI (AFP) - Distraught family members who had waved elderly parents off on a pleasure cruise gathered at a Shanghai travel agency on Tuesday, sobbing and pleading for information on their fate after the ship capsized in China s Yangtze river.
One man expressed his grief with a tearful apology to his parents, who were among the hundreds of missing.
"I m sorry, mom and dad. I haven t shown enough filial piety," he said, referring to the Chinese concept of honouring one s parents.
"I still have so many things I want to tell them. I thought they would come back safe and sound," added the man, who declined to give his name, as he sat on a sofa screaming and crying in front of other relatives.
Dozens of emotional family members gathered at the agency to seek information about the fate of some of the more than 450 passengers and crew aboard the capsized boat.
Rescuers had saved more than a dozen people from the vessel, which sank in stormy weather, as divers raced to find more survivors, state media said.
The Shanghai Xiehe Travel Agency, located in an office block, was closed following the late Monday accident, but phones still rang inside while a sign on the locked door said company managers had left to deal with the aftermath.
Relatives also gathered in the eastern city of Nanjing, from where the boat departed, and the southwestern municipality of Chongqing which was the final destination.
Many complained about the lack of information about the accident which took place far up the Yangtze river in the central province of Hubei.
"I knew of the accident around six o clock this morning through the news and then came here at seven o clock. We have been waiting here but we haven t heard any information," said a man, who gave his surname as Chen.
His sister, 69, and brother-in-law were both passengers.
About 30 or 40 relatives later voluntarily left by bus with officials from the local government, heading to the offices for the district where the travel agency is located in hopes of getting more information.
Wang Yiping, who was waiting at an office of Shanghai s Zhabei district government, said her retired father liked to travel. "When he had time, he would go out to travel with a bunch of friends," she recalled.
Many of the passengers originating from Shanghai were older and retired, including a group of more than 20 who were travelling together, another relative said.
A 64-year-old man surnamed Zhang said he spoke to his wife on the boat Monday evening hours before the accident, and she told him about poor weather and heavy rain.
"I usually call her twice a day. But today, after I heard the news... the phone call never got through."
She had joined a two-week tour for 3,000 yuan ($500), with a schedule taking them from Nanjing to Chongqing by boat, and then returning home from the southwestern city of Chengdu.
"No one has come out to give us any information. Even (Premier) Li Keqiang is already at the site. But here, the travel agency should at least offer us some consolation," he said.