Islamic State or Al-Qaeda? Somalia's Shebab mulls future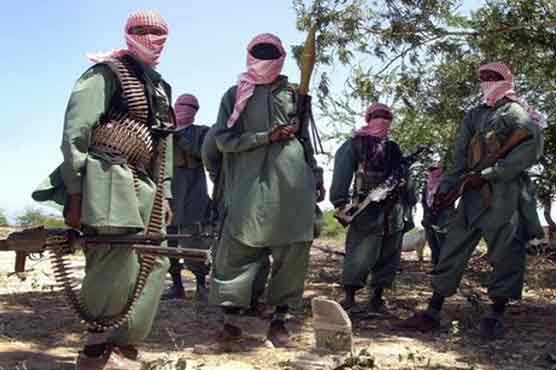 The admission comes at a time when Shebab is under pressure militarily.
MOGADISHU (AFP) - Somalia s Shebab militants are divided over whether to maintain their allegiance to Al-Qaeda or shift to Islamic State, according to militant and security sources, analysts and clan elders.
The division comes at a time when Islamic State in Iraq and Syria has become the extremist franchise of choice, attracting fighters from abroad and other militant groups such as Boko Haram in Nigeria, while Al-Qaeda too has recently expanded its territory in Yemen.
"Why is it a surprise to hear that Shebab may join the Islamic State? All Muslims have to unite against their enemy," said a Shebab commander, speaking to AFP on condition of anonymity.
The commander said Shebab "would be more than happy to join forces to strike the enemy of Islam harder".
The admission comes at a time when Shebab is under pressure militarily but remains able to launch guerilla and terror attacks, seemingly at will, against civilian targets in Somalia and Kenya.
This month Shebab killed 148 people, mostly students, during an armed assault on a university in Garissa, northeastern Kenya, while suicide bombers and gunmen have attacked hotels and a restaurant in Mogadishu and a United Nations minibus in the northern Somali town of Garowe.
Garissa echoed the 2013 Westgate Mall attack in Nairobi, with just four gunmen and multiple accounts of the singling out of non-Muslims for murder, a tactic also used in Shebab attacks on a bus and quarry in Mandera, Kenya, late last year.
But Garissa was both Shebab s most deadly and most brutal attack yet. The gunmen herded scores of young non-Muslim men and women into a university hall of residence. They were made to lie side-by-side on the courtyard floor and executed.
It was an assault worthy in its thirst for blood of IS, which has distinguished itself through mass executions, many of which are recorded and distributed online.
Corridor to Afghanistan
Some see Shebab s vacillations as a sign of weakness.
"Shebab is desperate. They have lost ground in Somalia, they may be considering joining the so-called Islamic State in Iraq and Syria so that they get funds and moral support," said Mohamed Ibrahim, a Somali security official.
But others suggest Shebab is still considered a valuable partner in jihad.
"There s a debate going on between the core leaders whether to switch to IS, whether to stay with Al-Qaeda," Somalia s prime minister Omar Abdirashid Ali Sharmarke told AFP.
"Both ISIS and Al-Qaeda are appealing to Shebab to join them," he said.
Sharmarke said that recent territorial gains in Yemen by Al-Qaeda in the Arabian Peninsula (AQAP), the strongest of Al-Qaeda s franchises, might embolden and strengthen Shebab.
"It s really crucial now because this can spill over from the Yemen conflict and easily come to Somalia," he said. "The Gulf of Aden can become a corridor to Afghanistan and Pakistan."
Sources in southern Somalia, where Shebab fighters and commanders are now concentrated, confirmed that meetings have taken place to discuss the IS/AQ issue.
"We have heard about a meeting by Shebab senior leaders," said Hassan Nure, an elder in Lower Shabelle region. "They haven t agreed anything so far, some of them are still very reluctant because they want to maintain relations with Al-Qaeda."
"The dispute in Shebab over whether to remain loyal to Al-Qaeda or align instead with IS is very real," says Tres Thomas, a Washington-based Somali expert and manager of the respected Somalia Newsroom blog.
Financial benefits
Analysts say Shebab leader Ahmed Diriye, also known as Ahmed Umar Abu Ubaidah, is an Al-Qaeda loyalist, while the powerful secret police chief, Mahad Karate, is the most senior proponent of a shift to IS.
A shift to IS might bring financial benefits. "If Shebab were to align with IS it would mean an increase in money and resources that AQ cannot provide at the moment," said a Western security source.
It might also provide a political boost and a propaganda coup.
"In some ways you inherit the strength of the group to whom you pledge allegiance," said Roland Marchal, a terrorism expert and senior research fellow at the National Centre for Scientific Research (CNRS) in Paris.
But for Marchal, the long and strong links between Shebab and AQAP would make switching allegiance a financial and political wrench, as well as a tricky decision.
"The Shebab leadership remains closely linked to AQAP and it s hard to believe that they would switch to IS just like that."
And the extent of internal Shebab support for a move is not known.
"It is unclear how big and influential the pro-IS faction is and whether it would be able to shift broader opinion in Shebab, outside of a number of foreign fighters who are also behind an IS alliance," said Thomas.
In any case, a simple shift of allegiance may do little to increase Shebab s appeal to potential recruits.
"While Shebab would like to see terrorists, particularly those of Somali descent, come to Somalia instead of Syria and Iraq, an alliance with IS would not change the fact that Shebab s dwindling territorial control and urban attacks against civilians are still a major disincentive for recruits."