I stood by my decision to award Prince Philip knighthood: Tony Abbott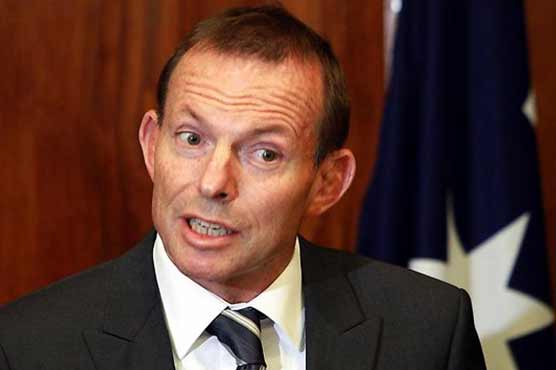 He tried to calm the storm by taking questions from reporters
MELBOURNE (AFP) - Australian Prime Minister Tony Abbott said Wednesday he stood by his controversial decision to award Britain s Prince Philip a knighthood and was taking the firestorm of criticism "on the chin".
Several ministers have walked away from Abbott s appointment of the nonagenarian Duke of Edinburgh to the ranks of the Order of Australia, MPs on all sides have mocked the move and the media condemned it severely.
Abbott had kept quiet since Australia Day on Monday when social media lit up with repeated ridicule of his announcement.
On Wednesday he tried to calm the storm by taking questions from reporters and admitting he would consult more widely on future appointments.
But he did not back down.
"I stand by the decision," Abbott insisted.
"I understand why some people do not like it. I respect their right to be critical. I take it on the chin."
He defended the prince s role in Australia, calling him "a distinguished servant of this country throughout a long and active public life".
However Abbott, with his opinion poll ratings plunging after a series of political faux pas in recent months, suggested he had learnt his lesson.
"I do want to assure people I have heard and there will be considerably more consultation around these awards in the future," he said.
"Obviously there are some lessons in these things and the lesson that I learn is there does need to be wider consultation about these sorts of awards in the future."
The prime minister said he consulted only with the chairman of council of the Order of Australia and the governor-general, the Queen s representative in the country.
"I did what I thought was appropriate," he said.
Outside pro-royal circles Abbott has found little support after raising republican heckles last year when he re-introduced British imperial honours Down Under.
Australian-born media baron Rupert Murdoch, who was himself made a Companion of the Order of Australia under the previous system, tweeted that the knighthood was "a joke and an embarrassment".
"Time to scrap all honours everywhere," he added.
Treasurer Joe Hockey, Agriculture Minister Barnaby Joyce and Finance Minister Mathias Cormann all made it clear the decision was the prime minister s alone.
"This is my call and I m happy to take these things on the chin. I accept that this has been a distraction for the government over the last couple of days," Abbott admitted.
The Australian newspaper, which has supported the prime minister s government, ran a damaging editorial asking: "Tony Abbott is in office but is he prime minister?"
"The decision to turn a distant duke into a knight Down Under suggests a prime minister who is tone deaf or, worse, complacent in his power to push through a personal preference indifferent to the fact that it is bound to enrage and bewilder many," it said.