Last Updated On 22 January,2015 About 0 seconds from now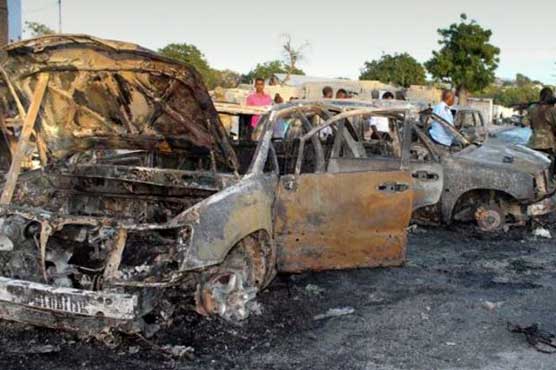 At least five people were killed Thursday in a suicide car bombing.
MOGADISHU (AFP) - At least five people were killed Thursday in a suicide car bombing against a hotel in Mogadishu on the eve of a visit to the Somali capital by Turkey s president, police said.
Sources at the hotel, situated close to the heavily-fortified presidential palace, said there were around 70 members of a Turkish delegation in the hotel at the time, but none of them were killed or seriously hurt in the blast.
Somalia s Al-Qaeda-affiliated Shebab rebels -- who are fighting to overthrow the country s internationally-backed government -- said they carried out the bombing, the latest in a string of attacks by the group against high-profile targets in Mogadishu.
Turkish President Recep Tayyip Erdogan, whose country is a major investor in Somalia, is due in Mogadishu on Friday in what will be a rare visit by a foreign leader, although officials said the trip would go ahead as planned.
"Five people were killed in the attack, among them three security guards," police official Mohamed Adan said.
"The attacker drove a car loaded with explosives aiming at the gate of the hotel but did not manage to get inside. The explosion partially destroyed the perimeter."
Witnesses said they saw a car speeding towards the gate of the hotel.
"I saw it speeding along the main road and the driver turned into the Hotel SYL gate. There was a huge explosion, smoke and shrapnel. Several people were down on the ground," said Abdukadir Munin.
The area around the hotel was quickly sealed off and police fired shots to keep away onlookers, witnesses said.
The attack comes even though Mogadishu, and particularly the area around the presidential palace, has been placed under tight security ahead of Erdogan s visit. Many of the Turkish officials inside the hotel were security personnel preparing for his arrival and businessmen, Somali sources said.
Speaking in Davos, Turkish Prime Minister Ahmet Davutoglu told reporters the visit, during which Erdogan is due to meet his counterpart Hassan Sheik Mohamud, would not be cancelled.
"Risks could happen but Turkey s determined position will not change," he said.
The Turkish foreign ministry also said there were no casualties among the Turkish delegation in the hotel aside from some minor cuts from flying glass.
"There could be casualties among Somalis but there was no casualty on the Turkish side. One might have been lightly injured because of the smashed windows of the hotel, and Somali authorities have raised the security level," the ministry said.
A military spokesman for Somalia s Al-Qaeda-affiliated Shebab, Sheikh Abdul Aziz Abu Musab, confirmed the Islamists had carried out the attack.
"Our group planned the attack. A car full of explosives hit the Hotel SYL," he told AFP, claiming that six government security officers had died in the raid.