Last Updated On 19 January,2015 About 0 seconds from now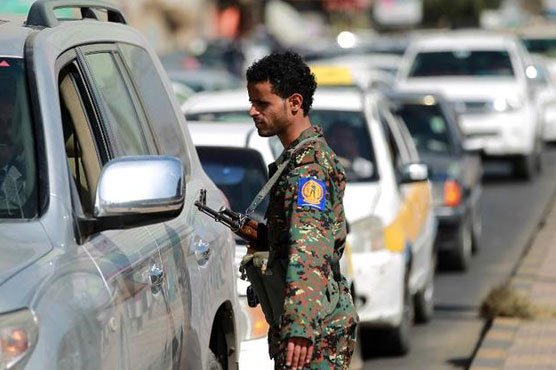 9 people were killed as Huthis, seized an army base near the presidential palace.
SANAA (AFP) - Shiite militia fought deadly battles with the army in Yemen s capital on Monday before a ceasefire took hold, in the biggest challenge yet to President Abdrabuh Mansur Hadi s rule.
At least nine people were killed as the militia, known as Huthis, seized an army base near the presidential palace in Sanaa and took control of state media as well as fired on a convoy carrying the prime minister.
The ceasefire came into effect after several hours, with a security official saying it had been agreed in a meeting of the defence and interior ministers with a Huthi representative.
This was confirmed by the interior ministry, and residents in areas around the presidential palace said the fighting had subsided.
A joint committee of the government and Huthis was later formed to ensure the ceasefire is adhered to.
At least nine people were killed in Monday s violence, including fighters from both sides, and 67 people were wounded, among them civilians, said Deputy Health Minister Nasser Baoum.
The clashes raised international concerns, with the Arab League, Britain and the United States calling for their immediate end.
The Huthis seized control of Sanaa in September and strategically important Yemen -- which borders Saudi Arabia and is on key Gulf shipping routes -- has since been wracked by unrest.
The violence has raised fears that Hadi s government, which is a key ally in Washington s fight against Al-Qaeda, will collapse and that Yemen will become a failed state similar to Somalia.
The Huthis appeared to be tightening their hold on the capital on Monday, saying they had seized an army base on a hill overlooking the presidential palace.
Information Minister Nadia Sakkaf said they had also taken total control of state television and the official news agency.
- State TV, news agency seized -
================================
"Yemeni satellite channel is not under state control, nor is state news agency Saba. The Huthis have completely controlled them and are refusing to publish any government statements," she tweeted.
Sakkaf said Huthis had also fired on Prime Minister Khalid Bahah s convoy as he left the presidential residence but that he was unharmed.
Witnesses said the fighting erupted early Monday after the militia deployed reinforcements near the presidential palace.
The military presidential guard sent troops onto the streets surrounding the palace and outside Hadi s residence.
A security official said the army intervened when the Huthis began to set up a new checkpoint near the presidential palace.
But a prominent Huthi chief, Ali al-Imad, accused the presidential guard of provoking the clashes.
"Hadi s guard is trying to blow up the situation on the security front to create confusion on the political front," he said on Facebook.
Tensions have been running high in Sanaa since the Huthis abducted Hadi s chief of staff, Ahmed Awad bin Mubarak, in an apparent bid to extract changes to a draft constitution that he is overseeing.
Mubarak is in charge of a "national dialogue" set up after veteran strongman Ali Abdullah Saleh was forced from power in February 2012 following a year of bloody Arab Spring-inspired protests.
The Huthis said they had seized him to prevent the violation of a UN-brokered agreement that provided for the formation of a new government and the appointment of Huthis as presidential advisers.
It stipulated that in return the Huthis would withdraw from key state institutions.
- Spiralling out of control -
===============================
Mubarak s kidnapping came just before a meeting of the national dialogue secretariat to present a draft constitution dividing Yemen into a six-region federation, which the Huthis oppose.
The rebels, who hail from Yemen s remote north and fought a decade-long war against the government, rejected the decentralisation plan last year, claiming it divides the country into rich and poor regions.
"The Huthis decision to kidnap Mubarak was a serious escalation that now appears to be spiralling out of control," said April Longley Alley, an analyst with the International Crisis Group.
Since their takeover of the capital, the Huthis, also known as Ansarullah, have pressed their advance into areas south of Sanaa, where they have met deadly resistance from Sunnis including Al-Qaeda loyalists.
Yemen s branch of the jihadist network, Al-Qaeda in the Arabian Peninsula, is considered its most dangerous and claimed responsibility for this month s attack in Paris on French satirical weekly Charlie Hebdo that left 12 dead.
Hadi s government has been a key ally of the United States, allowing Washington to carry out regular drone attacks on Al-Qaeda militants in its territory.