Militants launch major assault on Iraq's Samarra
Last Updated On 05 June,2014 About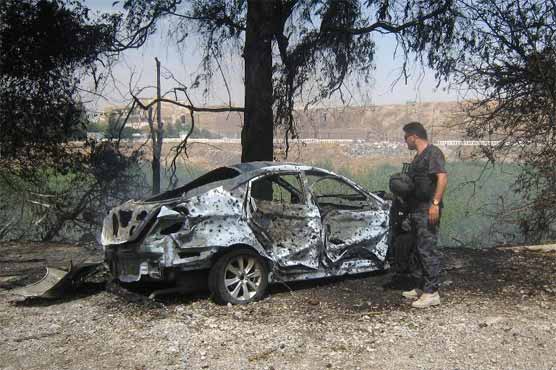 Witnesses said the militants took control of several areas of the city.
SAMARRA (AFP) - Militants launched a major attack on the Iraqi city of Samarra on Thursday and occupied several neighbourhoods, sparking house-to-house fighting with security forces and helicopter strikes in which dozens of people died.
The assault comes with Iraq already facing major security challenges, including anti-government fighters holding all of one city and parts of another for more than five months, and as the country suffers its worst violence in years.
On Thursday morning, militants travelling in dozens of vehicles, some mounted with anti-aircraft guns, attacked a major checkpoint on the southeast side of Samarra, killing the security forces guarding it and burning their vehicles, witnesses said.
They then took control of several areas of the city, north of Baghdad, according to witnesses, who reported seeing the bodies of both security forces and gunmen in the streets.
The assault sparked heavy fighting, and a police officer said reinforcements including members of Iraq s elite counter-terrorism forces were dispatched to Samarra to combat the militants.
At one point, an AFP journalist saw helicopters firing into the city.
Security forces and tribal fighters were able to retake "97 percent" of the city, while operations to regain other areas were still ongoing, army Staff Lieutenant General Sabah al-Fatlawi told AFP late on Thursday afternoon.
"We were able to kill 80 (militants) in strikes and attacks and clashes, from house to house and one street to another," Fatlawi said.
A police major and a doctor said earlier in the day that six police were killed and 24 people wounded in the fighting, but the final casualty figures for security forces were not immediately clear.
The police officer also said security forces withdrew from other areas to defend a revered Shiite shrine in central Samarra, which was bombed by militants in February 2006, sparking a brutal Sunni-Shiite sectarian conflict that killed tens of thousands.
The assault comes as a standoff between anti-government fighters and security forces in Iraq s Anbar province, west of Baghdad, enters its sixth month.
The city of Fallujah, just a short drive from Baghdad, and some parts of provincial capital Ramadi, further west, have been outside government control since early January.
- Medical supplies delivered to Fallujah -
On Thursday, the International Committee of the Red Cross said it had delivered medical supplies to Fallujah, the first time it was able to enter the city since January.
"The situation is very worrying," said Patricia Guiote, head of the Red Cross sub-delegation in Baghdad and leader of the five-member team that delivered the supplies to Fallujah.
"People are enduring a severe shortage of food, water and health care. Services at the hospital, which is the only facility still able to provide treatment for the injured and the sick, have been seriously affected by the fighting."
The ICRC said the team delivering the supplies found "immense needs and a situation that is extremely dire." "People in the city are living through a terrible ordeal."
Upwards of 350 people, most of them civilians, have been killed in months of conflict in Fallujah, according to Doctor Ahmed Shami at the city s hospital.
Violence in Iraq is running at its highest levels since 2006-2007, the height of the country s Sunni-Shiite sectarian conflict.
More than 900 people were killed last month, according to figures separately compiled by the United Nations and the government.
And over 4,000 have been killed so far this year, according to AFP figures based on security and medical sources.
Officials blame external factors for the rise in bloodshed, particularly the civil war in neighbouring Syria, and insist wide-ranging operations against militants are having an impact.
But the violence continues unabated, with analysts and diplomats saying the Shiite-led government needs to do more to reach out to the disaffected Sunni Arab minority to reduce support for militancy.

---
---
Advertisement