At least 36 immigrants die in Libya shipwreck: navy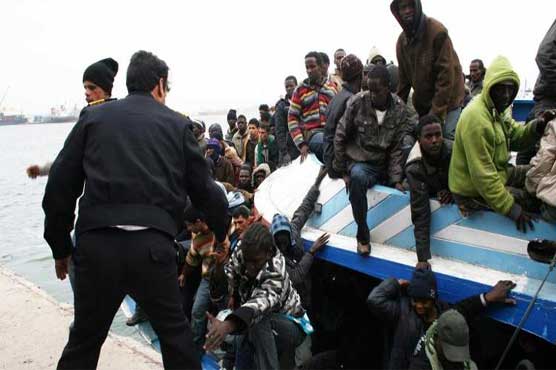 Those onboard included people from Burkina Faso, Cameroon, Gambia, Mali and Senegal.
TRIPOLI (AFP) - At least 36 immigrants died and 42 are missing after a makeshift boat was wrecked off Libya s coast, a naval spokesman told AFP on Sunday.
Colonel Ayub Kassem said the accident took place on Tuesday.
"The boat sank four kilometres (two and a half miles) off Garabulli," which lies 50 kilometres east of Tripoli, he said.
"We were able to save 52 people of various nationalities. Thirty-six bodies have been recovered so far, 24 of them today (Sunday)."
A pregnant woman was among the dead, he added.
Kassem cited survivors as saying the boat had 130 people on board, including people from Burkina Faso, Cameroon, Gambia, Mali and Senegal.
He said the hull of the boat had given way shortly after it left the beach because of the crush of people on board.
Othman Belbeisi, the chief of mission in Libya of the International Organisation for Migration, on Sunday called for "rapid solutions to preserve the lives of immigrants".
On Saturday, Libya s interim interior minister told reporters that Tripoli could "facilitate" people seeking to reach Europe illegally unless Brussels helps it combat the problem.
"I m warning the world and Europe in particular -- if they do not assume their responsibilities, Libya could facilitate the transit of this flood" of immigrants towards Europe, Salah Mazek told a news conference.
A government statement on Sunday sought to play down his remarks, stressing Tripoli s commitment to combat illegal immigration and "continue collaborating with all countries concerned, Italy in particular, to limit the influx of immigrants".
- Europe s turn to pay -
The statement said Libya respected international and bilateral treaties on illegal immigration.
Mazek had said on Saturday that Libya was "suffering" because thousands of mainly sub-Saharan Africans were spreading disease, crime and drugs in the North African nation.
"Libya has paid the price. Now it s Europe s turn to pay," Mazek added.
For years, Libya has been a springboard for hundreds of thousands of Africans seeking a better life in Europe.
Many cram into makeshift boats to attempt the perilous Mediterranean crossing to Malta or the Italian island of Lampedusa off Sicily. Hundreds of people lose their lives each year in shipwrecks.
Because of mild weather conditions and the anarchic security situation still prevailing in Libya, the number of illegal departures from its shores is rising.
More than 22,000 migrants have arrived in Italy since the start of the year, 10 times more than during the same period in 2013.
The regime of former strongman Moamer Kadhafi -- deposed and killed in the 2011 uprising -- turned on and off the flow of illegal immigrants as a way of exerting pressure on Brussels.
Shortly before the uprising erupted in February that year, he demanded five billion euros ($6.9 billion) a year from the European Union to solve the problem.
The extent of Libya s land and maritime borders -- 5,000 kilometres and about 2,000 kilometres respectively -- make it difficult and costly to police, let alone rescue, accommodate and repatriate illegal immigrants.