Eight killed in Maharashtra India bus fire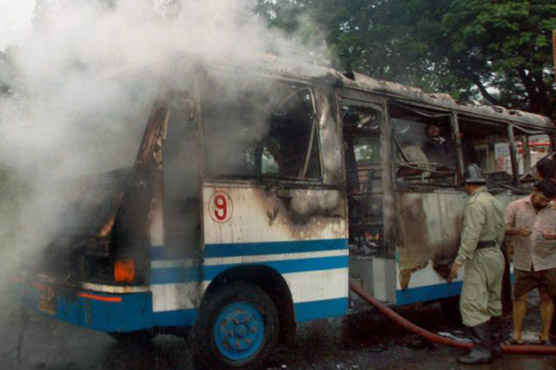 Bus crashes are common in India because of poorly-maintained vehicles overloading and bad driving.
INDIA (Web Desk) - At least eight people have been killed after the bus they were travelling in caught fire in India s western state of Maharashtra, media reports say.
The bus was travelling from Pune city in Maharashtra to Ahmedabad in Gujarat state when it collided with a truck on a highway early on Wednesday.
Fourteen people were injured in the accident.
Bus crashes are common in India and often caused by poorly-maintained vehicles, overloading and bad driving.
Traffic was halted for a few hours after Wednesday morning s crash near Manor, some 90km (55 miles) from the city of Mumbai.
A local police official told that the luxury bus crashed into a truck carrying gas cylinders and then caught fire.
The dead included the driver of the bus, he said, adding that 11 passengers had been admitted to a local hospital.
Last October at least 42 people died after the luxury bus they were travelling in caught fire in the southern state of Andhra Pradesh. Police say a collision with a culvert ignited the fuel tank of the vehicle.
In 2008, more than 60 people died in a bus fire in northern Uttar Pradesh state. The fire started when part of a faulty axle dropped on to the road and ruptured the bus s fuel tank.
Nearly 140,000 people died in road accidents in India in 2012, according to the government s National Crime Records Bureau.