Egypt gunmen kill 2 policemen, 1 soldier in Sinai
Last Updated On 30 September,2013 About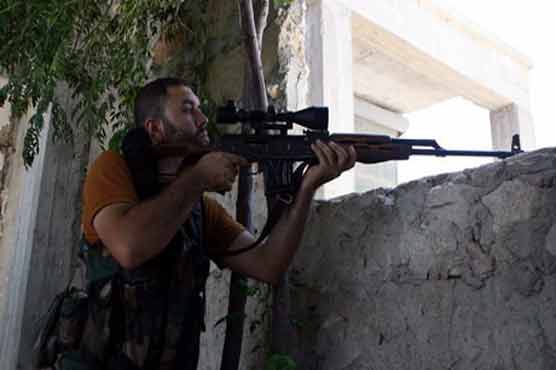 The assailants ambushed the policemen on their way to work in the provincial capital of el-Arish.
EL-ARISH (AP) - Gunmen killed two policemen and a soldier in Egypt s northern Sinai Peninsula on Monday, officials said, in the latest attack to hit the volatile desert region.
The assailants ambushed the policemen on their way to work in the provincial capital of el-Arish, wounding a third officer and speeding away by car, a security official said.
Gunmen also attacked army checkpoints in the city and nearby town of Sheikh Zuweyid, wounding a total of five soldiers and a civilian, a military official said. One of the wounded soldiers later died in a military hospital, he added.
Both officials spoke on condition of anonymity because they were not authorized to brief reporters.
Meanwhile, Egypt s official news agency MENA said gunmen opened fire on the el-Arish post office late Sunday, wounding a 14-year-old girl. Two roadside bombs targeting army vehicles exploded on the main road to el-Arish, it also reported, but there were no casualties.
Attacks on Egyptian forces have surged in northern Sinai since the military ousted the country s former Islamist president, Mohammed Morsi, in July. In response the military launched in the area its largest offensive against militants in years.
The army says militants have killed more than 100 policemen and soldiers since then. The deadliest attack took place Aug. 19 when unidentified gunmen pulled 25 police conscripts off minibuses and shot them dead on the side of the main road linking the border town of Rafah to el-Arish.
While the military says it is only targeting militant hideouts in northern Sinai, security officials have not commented about alleged civilian deaths in the operations. Few journalists have direct access to what is happening in the area because of security restrictions, forcing many to rely on official statements.
Earlier this month, a statement purportedly released by the Sinai-based Islamic militant group Ansar Jerusalem said a military attack had killed seven civilians, among them four children, in Sheikh Zuweyid. The group s statement, posted on militant websites, also included gruesome images of the dead children, some with serious head injuries.
In a case that highlights the volatility of the situation, an Egyptian journalist is being tried in a military court on charges of spreading false information about the army s operations there. Freelancer Ahmed Abu-Draa, a local resident, stands accused of lying about the army for saying it attacked mosques and was relocating families.
Late on Sunday, a previously unknown Sinai-based militant group posted its first video message on a militant website, claiming that it had killed an "apostate" and an army colonel in a drive-by attack.
The group, which calls itself the al-Nusra Battalion, said it is attached to the Furqan Brigades that claimed responsibility for an attack in August targeting a carrier ship in the strategic Suez Canal. Egyptian authorities said they foiled the attack.
Canal authority chairman Mohab Mamish said on Aug. 31 that a "terrorist element" had tried to disrupt navigation in the waterway by targeting a Panama-flagged ship, but the attempt was "completely unsuccessful." He did not say how the ship was targeted, but the Furqan group later posted a video showing a man firing a rocket-propelled grenade from land toward a ship.
Al-Nusra Battalion s short video showed a gunman killing a man wearing a traditional Arab robe, identified by subtitles as an "apostate." It also showed men in a car firing at a passing vehicle, claiming all three occupants of the car including a man it identified as Air Force Col. Mohammed el-Kumi, were killed.
The authenticity of the video could not be verified, but it was posted on a website that usually carries al-Qaida and other militant groups statements.

---
---
Advertisement