Thousands of Morsi supporters rally in Egypt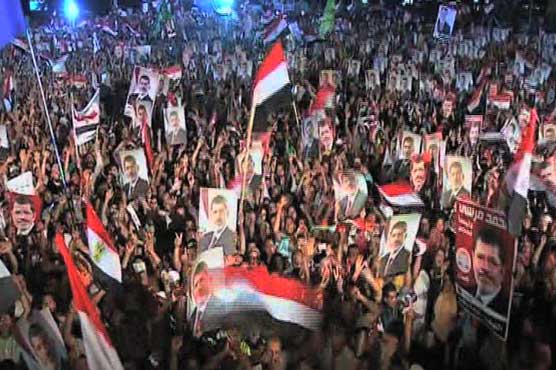 Thousands of Mohamed Morsi's supporters rallied on Friday in Cairo against the military.
CAIRO (AFP) - Thousands of Mohamed Morsi s supporters rallied on Friday in Cairo against the military, as supporters and opponents of the deposed Islamist president clashed elsewhere in Egypt.
The rallies come nearly a month after the August 14 crackdown by security forces on two pro-Morsi protest camps in Cairo that led to clashes in which hundreds of people were killed, the worst carnage in Egypt s recent history.
"Either we recover their rights, or we die like them," protesters chanted of those who lost their lives in the crackdown, as they marched toward Rabaa al-Adawiya Square, the site of one of those camps.
An AFP correspondent said soldiers used barbed wire to block roads to the square in the Nasr City district, with troops in helmets and carrying shields standing guard.
Protesters chanted "Abdel Fattah is the butcher", referring to army chief Abdel Fattah al-Sisi, as they passed a government building guarded by soldiers.
The protesters, including several in cars, carried flags bearing portraits of those killed in Rabaa al-Adawiya.
They made a stop outside the apartment building of one of those killed, where his relatives had hung his picture outside a window.
The man s mother told AFP he was killed when police broke up the Rabaa al-Adawiya camp.
Morsi supporters also rallied in other parts of Egypt.
Clashes between pro- and anti-Morsi demonstrators were reported in the Mediterranean city of Alexandria where one person was killed and five injured, state media said, adding that security forces arrested several protesters nationwide.
State media and security sources said police fired tear gas when protesters clashed with opponents in the Nile Delta towns of Tanta and Mahalla, while three people were injured in the province of Bahaira.
Friday s protests were called by the Anti-Coup Alliance, led by the Islamist Muslim Brotherhood to which Morsi belongs, under the slogan of "Loyalty to the Martyrs Blood".
The group has called for more protests to be held on Saturday.
Morsi, the country s first democratically elected president, was ousted by the army on July 3 after massive protests demanding his resignation.
The new military-installed authorities have since arrested more than 2,000 of his Islamist supporters.
On Thursday, interim president Adly Mansour extended for another two months a state of emergency in force since the mid-August bloodshed, citing security concerns.