Egypt army launches deadly assault on Sinai militants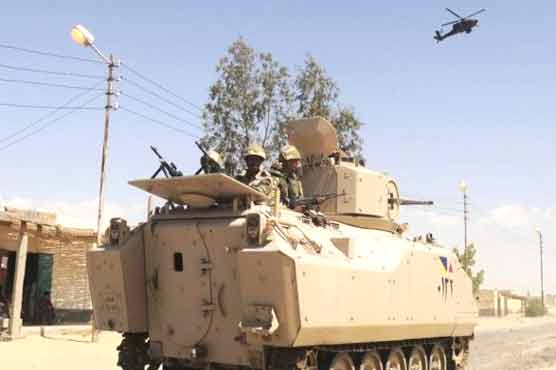 At least 10 people were killed as Egypt army launched an air and ground assault on Sinai militants.
CAIRO (AFP) - At least 10 people were killed as Egypt's army launched an air and ground assault on Sinai militants Saturday while foiling a railway bombing near the canal city of Suez, officials said.
A prosecutor levelled new accusations meanwhile against Mohamed Morsi, already facing trial on other charges, alleging the Islamist leader insulted the judiciary when he was president, state media said.
Egypt has seen an uptick in bombings and shootings, mostly aimed at the security forces, since August 14 when hundreds were killed in clashes when police broke up two pro-Morsi protest camps in Cairo.
The military has been facing an insurgency in north Sinai, a haven for Al-Qaeda-inspired militants who have launched almost daily attacks against security forces in recent weeks.
On Saturday the army carried out air strikes on suspected militant hideouts while armoured vehicles were deployed in the area and along the Rafah border with the Gaza Strip, officers told AFP.
Air attacks launched by Apache helicopters and ground operations killed at least "10 Islamist fighters", while 20 others were wounded and 15 arrested, security officials said.
"The army is pursuing its operations against terrorist hideouts to arrest" those suspected of involvement in attacks on military target, one official said.
Egyptian authorities meanwhile closed the Rafah border crossing on Saturday for "security reasons", said Maher Abu Sabha, the crossing's director in the Hamas-run Gaza Strip.
Elsewhere, police called in military bomb disposal experts after residents from Abu Aref village said they spotted a bomb on the railroad that links Suez with another canal city, Ismailiya.
Two mortar rounds and a rocket-propelled grenade were attached to a fuse and appeared to have been intended for a 6:00 am (0400 GMT) train, officials said.
Hours later, assailants hurled a grenade at a Cairo police station, security officials said.
The attack -- the third in weeks on the teeming Boulaq al-Daqrour station -- did not cause any casualties.
The developments raised tensions after a car bomb targeted Interior Minister Mohamed Ibrahim on Thursday.
Ibrahim, who was unhurt in the attack that killed one person and wounded others, warned afterwards of "a wave of terrorism".
The umbrella group of Islamists demanding the reinstatement of Morsi denounced the assassination bid, and said they remained committed to peaceful protests.
But analysts say rogue militants are likely to attempt to carry out attacks as the military and police continue rounding up Islamists.
Morsi has been held since his ouster on July 3 and the prosecutor issued a new detention order for him over his comments that judges had rigged a 2005 parliamentary election.
The railroad between Suez and Ismailiya lies on the west bank of the Suez Canal, with the restive Sinai Peninsula to the east.
On September 1, the head of the Suez Canal Authority, Admiral Mohab Mamish, said a militant launched an attack against a Panamanian-flagged ship passing through the vital waterway.
A video posted on YouTube showed two men firing rocket-propelled grenades against a cargo ship, causing no apparent damage.
It was not immediately possible to verify the authenticity of the video, which featured the black banner used by Al-Qaeda inspired militants.
For years Sinai has defied the central government's authority with its Bedouin population complaining of poverty and discrimination.