Japanese inventor creates creepy spider night lamp, freaks out the internet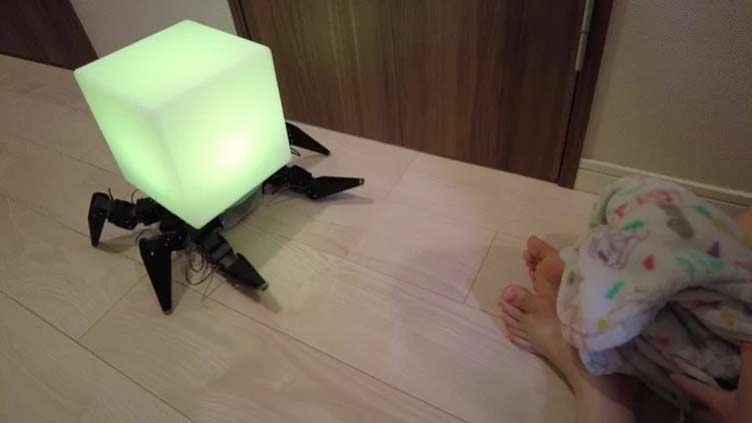 WeirdNews
Japanese inventor creates creepy spider night lamp, freaks out the internet
(Web Desk) - A Japanese IT engineer has created a creepy nigh lamp that crawls on robotic spider legs and leads you to the toilet in the middle of the night.
Don't you hate when you have to answer nature's call in the middle of the night? It's pitch dark, you don't know where you're going and you don't want to disturb the whole family by turning on the lights. Wouldn't it be nice if a smart night lamp could light up the way from your bed to the toilet? Well, be careful what you wish for, because some night lamps can be downright disturbing. Case in point, this robotic spider lamp created by a Japanese IT engineer as a side project that has been freaking out Twitter for the past couple of days.
On June 5th, Twitter user Ianius shared a short clip featuring his newest wacky creation, a walking nightlamp powered by motorized robot spider legs. The lamp itself is commercially available, but the legs it stands on were created and assembled by Ianius, who sort of has a thing for robotics.
"I think it can contribute to a sense of security as a reliable partner who walks with me in the dark," Ianius told HuffPost Japan about his unique lamp, but most of the people who saw it in action in a 23-second video posted on Twitter disagreed. They found it creepy or downright disturbing and said that it would only make their night-time trip to the toiled even scarier.
Ianius revealed that while the lamp itself is store-bought, most of the components for the legs are his 3D-printed custom designs. Although he plans to work on a lamp that can move autonomously, the current version is only remote-controlled via a Bluetooth-connected joystick.
In just 3 days, Ianius short clip featuring his custom night lamp has received over 227,000 likes on Twitter alone and has been retweeted 50,000 times.